Over the past year, the term "Web3" has created significant buzz online. Web3 companies promise to change how we interact with the internet and each other using blockchain technology. Proponents of Web3 tout it as the next generation of the internet. If Web3 becomes widely adopted, this could impact many industries, including e-commerce, banking, social media, healthcare, and more.
But, what exactly is Web3, and what is the future Web 3.0 companies envision?
Key Takeaways
The term Web 3.0 refers to the idea of a third generation of the internet that focuses on data security and new ways of communication and collaboration.
We will discuss seven Web 3.0 stocks that you can invest in to jump headfirst into Web3, including Nvidia, Block, Twitter, and more.
Understanding Web3
Web3 is a term used to describe emerging technologies meant to provide a more secure and user-friendly way for people to interact with internet services. The goal is to allow users to control their data through decentralized applications (dApps). Instead of the web being controlled and monopolized by tech giants and other centralized corporate platforms, everyone would tap into the same database and decentralize these existing power structures (think niche communities, user-owned digital identities, a decentralized web, etc.).
Supporters of Web3 envision a world with decentralized finance (DeFi), play-to-earn video games, token-gated communities, NFT platforms, and more. Web3 also makes it possible for developers to create new applications that are interoperable with existing ones, which could lead to some exciting possibilities in terms of how we use the internet in our everyday lives.
Benefits of Web 3.0
Below are four key benefits of Web3 companies:
Web3 companies use blockchain technologies to create more secure, transparent transactions online (though this does not mean they are not hackable). In the future, their progress could revolutionize everything from banking to voting to e-commerce.
They are building the infrastructure for a new era of online communication to make it easy for you to connect with others in ways never before possible through meta platforms, NFT marketplaces, DeFi, and more.
They have the potential to be more successful than traditional tech giants. In 2022, Web3 startups have begun outpacing traditional tech startups in both funding and development. They offer a much-needed solution to the problems caused by centralization on the internet, such as lack of control over your data and censorship.
With a focus on open protocols and decentralized, community-oriented networks, the goal is to create a more fair and equitable internet.
7 Web 3.0 Stocks to Invest In
As Web3 gains traction among tech consumers, venture capitalists, Wall Street, and the broader public, many companies are starting to take advantage of the momentum and pivot into the space. Below are 7 companies that are betting big on Web 3.0 you should consider investing money into.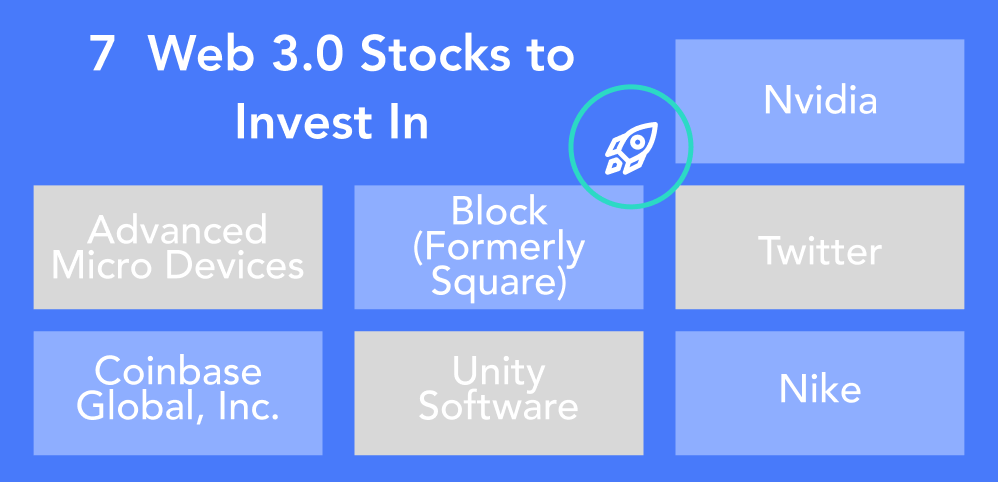 1. Nvidia
Tech giant Nvidia is a leading manufacturer of graphics processing units (GPUs) and an important company in the cryptocurrency space. Nvidia's technology has allowed crypto miners to provide the technical contributions necessary to run blockchain networks. In addition to its core business, Nvidia has also been making significant investments in the Web 3.0 infrastructure layer.
Nvidia has been developing advanced AI chips that run new Web3 applications and platforms and recently made major upgrades to its Omniverse Ecosystem, a platform designed for Web 3.0 developers to build metaverse products. Additionally, their Deep Learning Institute is focused on advancing knowledge in "AI, accelerated computing, accelerated data science, graphics and simulation, and more," further cementing their influence in the Web3 space.
2. Advanced Micro Devices
Advanced Micro Devices (AMD) is a leading developer of semiconductor products, including microprocessors, embedded processors, central processing units (CPUs), and graphics processing units (GPUs). Currently, AMD has semiconductor designers racing to develop powerful artificial intelligence computing and graphics chips for Web 3.0. and building partnerships with various companies that will support the new technology. With the release of Radeon VII in 2019, they cemented their place at the forefront of the blockchain computing industry.
This product line is based on the company's "Vega 20" microarchitecture, which was designed specifically for blockchain applications and other high-performance computing tasks. It offers twice as many stream processors as its predecessor (3840 vs. 1920), making it perfect for mining cryptocurrencies or running other demanding applications. At the same time, AMD is working closely with ecosystem partners to develop new processing solutions with more computing performance and less energy consumption.
3. Block (Formerly Square)
Block is a financial technology (fintech) giant whose ecosystem provides solutions for point of sale transactions (PoS), peer-to-peer payments (P2P), and cryptocurrencies. The company is working to create a new financial infrastructure based on the blockchain technology underlying Bitcoin and other cryptocurrencies.
This new system will make it easier for people to participate in commerce and transactions on a global scale. No more waiting days or weeks for money transfers to go through – with Block, they can happen almost instantaneously. Not only does this make life easier for consumers, but it also helps businesses by making it simpler and faster to conduct transactions both domestically and internationally. Additionally, CEO Jack Dorsey will be allocating a significant portion of Block's revenue to invest in Web3 projects, solidifying their role in Web 3.0.
In March 2023, Block announced it was developing a mining development kit that allows engineers to create products using its chips. Then, in April 2023, the company bought a significant number of bitcoin mining chips from Intel, which it plans on using to enter the mining hardware market in 2024.
4. Twitter
The microblogging platform, Twitter, is one of the most popular social networking platforms on the internet, with over 330 million active users. People use Twitter for many reasons, including staying up-to-date on current events, sharing their thoughts and opinions, connecting with friends and family, and promoting their businesses.
Last year, Twitter's former CEO Parag Agrawal assembled a dedicated team to explore Web3 opportunities and "harness this change towards benefiting creators on our service, towards benefiting all consumers on Twitter." Led by Tessa Rinearson, she signaled that Twitter would be exploring ways to further support Web 3.0, including Bitcoin tipping, incorporating NFTs, and working closely with Bluesky to build its own decentralized social media platform. Additionally, subscribers to Twitter Blue can display their verified NFTs on their hexagon-shaped profile pictures, which has generated significant buzz from NFT enthusiasts.
Note that Twitter has been delisted as of November 8, 2022, following Elon Musk's takeover. It's unclear when and if the company will be relisted.
5. Coinbase Global, Inc.
Founded by Brian Armstrong and Fred Ehrsam, Coinbase Global, Inc. has been operating since 2012 and is one of the leading cryptocurrency exchanges to date, with 110M+ users (as of May 2023). They are a digital asset exchange company that brokers exchanges of Bitcoin, Ethereum, Solana, and other cryptos with fiat currencies in 32 countries and Bitcoin transactions and storage in 190 countries worldwide.
In late 2021, Coinbase launched its NFT platform for a select group of people with access to the beta site. The platform consists of a limited number of NFT collections that use the Ethereum blockchain and social aspects that will allow the platform to become a Web 3.0 social marketplace in the future. This pivot into NFTs is a major step in the company's vision to be a central point of both digital and financial identity. Additionally, Coinbase's venture capital fund supports various Web 3.0 infrastructure companies and layers, such as Solana, BlockFi, and other decentralized finance projects.
6. Unity Software
Unity is a software development platform used to create video games and other interactive 3D applications for mobile phones, PCs, and augmented reality (AR) devices. Unity allows you to build your game or application using programming code or scripting languages such as C#, JavaScript, and Boo. The company also provides features for creating physics-based simulations, particle effects, and animation.
While most people recognize Unity for its influence over video game development, the company is poised to create underlying architecture for developing and participating in the metaverse (think cyberspace or virtual reality). Unity also manages content streaming, payments, subscriptions, etc., and supports NFT and blockchain-based functions. During its earnings call in February 2022, Unity CEO John Riccitiello stated that, "We are making the tools for creation, for operation. We will bring them around to support, firstly, every metaverse or Web3 application type you can imagine."
7. Nike
In December 2021, Nike announced that it was acquiring RTFKT studios, a virtual sneaker and collectibles startup. Known for its creative and user-friendly designs, RTFKT has become increasingly popular among sneakerheads and Web3 enthusiasts, with several notable virtual sneaker design collabs that have generated tens of millions in revenue. This move allows Nike to create even more innovative and cutting-edge products in the metaverse and become a leading player in virtual fashion, which should help the company's growth significantly moving forward.
In a statement on the acquisition, Nike President and CEO John Donahoe said the deal "accelerates Nike's digital transformation and allows us to serve athletes and creators at the intersection of sport, creativity, gaming, and culture," thus signaling the shift towards a new digital age for retail. The acquisition has proven worthwhile as Nike and RTFKT released the Nike Dunk Genesis Cryptokicks in April 2022, a collection of 20,000 virtual sneakers selling for 2.5 to 3 ether, with a rare skin even selling for 150 ether.
Both Nike and its rival Adidas have made significant investments in Web 3.0 in recent months, with Nike building a Nikeland experience and virtual showroom within Roblox and filing trademarks and patents to have its logo used in virtual merch. Meanwhile, Adidas has confirmed partnerships with Coinbase, The Sandbox, and NFT collections, such as Bored Ape Yacht Club, Punks Comic, and Gmoney.
My Investments in Web 3.0
Currently, I own shares of Nvidia, AMD, and Block, while Coinbase, Unity Software, and Netflix are all stocks on my watchlists. I also own cryptocurrencies such as Bitcoin and Ethereum. I've also purchased NFTs in the past and received them from friends and at different Web3 events. In the past, I've also worked in We3 in various capacities and am in several Web3 Discord servers for NFTs and DAOs (decentralized autonomous organizations).
The Bottom Line
Web 3 companies deal with the third generation of the internet, which supporters predict will be a more decentralized and user-controlled internet. That means Web3 companies will likely have a more democratic structure and better data security and privacy features. While Web 3.0 is still in its early stages, if that sounds like an attractive bet, start doing your own research to find Web 3.0 stocks or Web3 pure plays that fit your risk tolerance and financial goals.
We are not financial advisors. The content on this website and our YouTube videos are for educational purposes only and merely cite our own personal opinions. In order to make the best financial decision that suits your own needs, you must conduct your own research and seek the advice of a licensed financial advisor if necessary. Know that all investments involve some form of risk and there is no guarantee that you will be successful in making, saving, or investing money; nor is there any guarantee that you won't experience any loss when investing. Always remember to make smart decisions and do your own research!