Goldman Sachs is one of the most successful and well-known investment banks in the world. Founded in 1869 under financier Marcus Goldman, Goldman Sachs has been a leader in the banking industry for over 150 years. The company has a long history of providing excellent financial advice and products to its clients, and it remains one of the most respected financial institutions on Wall Street.
Goldman Sachs is known for its innovative products and services, as well as its strong commitment to client satisfaction. The firm has a team of highly experienced professionals dedicated to helping their clients achieve their financial goals. They offer a wide range of investment banking services, including corporate finance, equity research, mergers and acquisitions, securities underwriting, and trading.
During the Great Recession, Goldman Sachs became a bank holding company and launched GS Bank several years later through acquiring GE Capital Bank's online deposits. Since then, GS Bank became known as Marcus By Goldman Sachs and offers certificates of deposit (CDs), high-yield savings account, and no-fee personal loans.
If you are considering using Marcus online bank accounts and loan products, this review will give you a better understanding of the unique aspects and benefits of Marcus by Goldman Sachs and whether they can support your personal finance goals.
Marcus by Goldman Sachs at a Glance
Marcus by Goldman Sachs offers two savings products: high-yield savings accounts and certificates of deposits (CDs). They offer high-yield CDs with a variety of terms and no-penalty CDs. While Marcus has a limited number of financial product offerings, the ones they do provide are top-rated and consistently offer some of the highest interest rates nationally. Additionally, their personal loans have some of the highest customer satisfaction in the markets.
If high rates are a top priority, Marcus may be a good fit. But, if you want access to a larger selection of financial tools, Marcus might not be the best option for you. Additionally, because Marcus does not have any physical locations, you will need to rely on its website, mobile app, and phone-based customer service to access your accounts. If you are tech-savvy, this will be more convenient for you as you will have 24/7 access to your accounts. But, if you prefer brick-and-mortar storefronts to online banks, you may want to consider an alternative bank.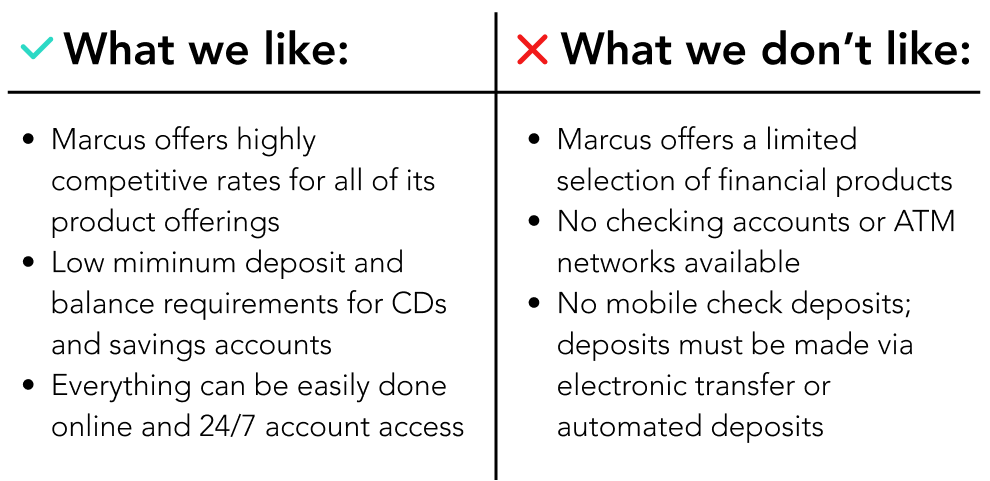 Account Basics
Savings Account Details
If you need somewhere to store your emergency fund or save up sinking funds for specific financial goals in the near-term, a Marcus online savings account can be a great place start. For example, using the Marcus high-yield savings calculator, if you make an initial deposit of $5,000 into a Marcus online savings account and save $250 a month at a 4.4% APY (annual percentage yield), you would earn $2,913 in 5 years. In comparison, Bank of America's savings account has an APY of 0.01%, and Chase offers an APY of 0.02%.
Savings accounts are one of the most popular ways to set aside money for your future. Depending on your financial goals, you can choose to set aside a certain amount or percentage of your income each month into your savings account or deposit lump sums a few times a year. While interest rates for savings accounts are not very high compared to other financial tools, you will have easy access to your money and be able to withdraw funds from them at any time penalty-free (unlike retirement accounts).
With a Marcus online savings account, you can deposit, withdraw, and earn interest on your funds in a centralized location. There is no minimum deposit limit, so you can open an account with any amount of money, even $20, if that's all you have right now. However, there is a maximum limit of $1 million per account and $3 million per account owner.
Compared to the national average of 0.42% APR, you would be earning more than 6x that in interest, making the yield highly competitive. Marcus also does not charge any fees to open an account, nor do they charge any ongoing account maintenance fees, service fees, or transaction fees for transferring money to or from your account. But, if you link any third-party banks to your account, the banks may charge you fees to move your funds depending on their policies.
If you have concerns about your funds' security, you can rest assured that your money is insured by the Federal Deposit Insurance Corporation (FDIC) for up to $250,000. That means if the bank fails for whatever reason, such as a bank run, and runs out of funds, the FDIC will reimburse you up to that amount, thus minimizing your risks of losing all your money.
As with most savings accounts, you are limited by the Federal Reserve to 6 withdrawals or transfers of funds per statement cycle. To access your money, you can schedule an electronic transfer at any time, either through the online banking website, mobile app, or phone-automated banking system.
If you want to send a wire transfer, you can call customer support Monday through Friday from 8AM to 10PM and arrange a wire transfer. Note that it may take 1-3 business days to process the request, and you can only use a wire transfer to send funds between your accounts. If you want to deposit a check, you can mail it to the bank's address to help you process and deposit the funds. Unfortunately, mobile check deposits are not currently offered.
CD Account Features
A certificate of deposit (CD) is another way to save money while minimizing risks. A CD is a savings vehicle that offers a higher interest rate than a regular savings account and usually has a fixed term, such as six months or one year. With CDs, you choose the investment period and the amount you want to invest. Generally, the longer the term of the CD, the higher the interest rate. You can be sure your money will grow at a steady rate over time, particularly with the above-average rates Marcus by Goldman Sachs offers.
To open a Marcus CD, you need to have a minimum balance of $500 and can choose from a variety of terms ranging from 6 months to 6 years. The longer your CD term, the more your savings will grow. For example, with the high-yield CD option, if you make an initial deposit for $5,000 and your term length is 6 months, you would earn $115, versus if your term length is 2 years, you would earn $444.
If you withdraw your money early from the Marcus high-yield CDs, you will get charged an early withdrawal penalty. Think of their high-yield CD option as a contract where you are making a commitment to leave your money deposited in the CD for the full term. The exact amount of the fee will depend on the terms of your CD and usually amounts to a certain number of days' worth of interest.
Alternatively, you can choose from three No-Penalty CD accounts ranging from 7, 11, or 13 months. These accounts allow you to withdraw your money online with no penalty, beginning 7 days after funding. With this option, you can easily access your money and keep all of the interest earned even with an early withdrawal. You could use a Marcus No-Penalty CD to hold your emergency fund or save for an upcoming financial goal, such as a new car, home down payment, vacation, or any other savings goal that would benefit from a higher APY and additional flexibility on withdrawals.
When you choose to open a CD with Marcus, they will guarantee your rate for 10 days through their special 10-Day CD Rate Guarantee. That means if you decide to open an account at a specific APY, but that APY decreases a week later, you will still receive the higher APY as long as you deposit the $500 minimum within 10 days. And, if the rate goes up, you will automatically receive the higher APY for your CD. As for the monthly interest, it will get automatically added to the CD's principal balance with the option to transfer the accrued interest to another bank account at no cost.
Here are Marcus' high-yield CD rates:
Here are Marcus' No-Penalty CD rates:
Checking
Currently, Marcus does not offer any checking account options, though they have been in talks of creating a checking account since 2021.
Personal Loans
Marcus offers unsecured personal loans with no sign-up fees, late fees, or prepayment fees. If you want to consolidate debt, pay off existing credit card debts at a lower interest rate, or work towards other financial goals, Marcus offers no-fee personal loans ranging from $3,500 – $40,000, with APRs ranging from 6.99%-24.99% and loan terms from 36 to 72 months.
If you pay your loan on time and in full every month for 12 consecutive months, you can defer one month of payment, and interest will not accrue during this time. Instead, your loan will get extended for one month. Additionally, if you enroll in AutoPay, you will receive a 0.25% APR reduction.
Marcus will customize your personal loan options based on your financial situation and allow you to choose a loan option that works for your budget and timeframe. All loans are subject to credit approval, and how much you pay per month will depend on your interest rate, loan amount, and length of your loan term.
However, throughout 2023, Goldman Sachs has been offloading its personal loans to alternative investment firms like Varde Partners in its process of scaling back its Marcus lending business. So, it may be more difficult to get a personal loan with Marcus.
Accessing Marcus by Goldman Sachs
Marcus by Goldman Sachs is an online bank. Everything from educating yourself on their product offerings to opening a savings or CD account to making deposits and withdrawals can be done completely online. As long as you have the required information, you can open an account online without having to call a representative or speak to someone in-person. Once you open an account, you will be able to register for online banking, where you can manage all your transactions and savings.
Marcus does not offer any physical branches for savings accounts or an ATM network, though they do have in-person offices for private wealth management or other services. For more information on online savings accounts, CDs, and insights, you can call their toll-free number at 1-855-730-7283 anytime or check their website's frequently asked questions (FAQs) section.
You can also access Marcus through their mobile banking app, which is available for both iOS and Android devices. With the app, you can have fast and easy access to your accounts anytime. You can check your account balances, schedule transfers to and from other banks, make personal loan payments, and manage your progress toward financial goals. You can also use Marcus Insights to link external bank accounts to the app and access smart tools and trackers to see all your savings, investments, and spending in one place. Equipped with that information, you can make more strategic decisions to optimize your personal finances.
One drawback of the Marcus mobile app is that you cannot deposit checks via the app, which is a feature currently offered by many of its competitors. If you want to deposit a check into your savings account, you would need to endorse the check with "For Deposit Only" and your account number and send it to Marcus by mail.
How Marcus by Goldman Sachs Stacks Up
Who is Marcus by Goldman Sachs Best For?
Marcus by Goldman Sachs is best for customers who want to earn competitive savings and CD rates, prefer online banking, and have an existing relationship with an external bank for their checking account. It is a particularly good fit if you:
Want above-average savings and CD rates
Want a savings account with no minimum deposit
Are looking for CD options with more flexibility
Prefer to bank with an established and reputable financial institution
Pros
Competitive annual percentage yields (APYs) on all accounts
No minimum deposit requirements on savings accounts
Low $500 minimum deposit on CDs
No fees on CDs
Marcus Insights on the mobile app to help you track and optimize your personal finances
Mobile and online access 24/7
Same-day transfers up to $100,000
Cons
No physical branches
No checking accounts or ATM network
No mobile check deposit capabilities
No IRAs
No auto loans
No credit cards
The Bottom Line
What Marcus by Goldman Sachs lacks in breadth, they make up in their quality of offerings and financial services. Marcus provides highly competitive rates for their savings accounts and CDs, which could help you earn a good amount of interest on your money. Marcus is an excellent choice for long-term liquid savings as you can easily access your money anytime while earning steady rates over time. You also do not need to meet a minimum deposit or pay any fees for opening an account.
However, if you want to switch over from an external account solely to Marcus, it is likely not a suitable replacement for your current bank account. They do not offer checking accounts, physical retail locations, ATMs, or mobile check deposits.
Ultimately, opening an account with Marcus is completely up to you and your financial situation. Weigh the pros and cons carefully to see if Marcus is a good fit for your financial needs. If you want to save money and earn interest through low-risk vehicles, Marcus by Goldman Sachs offers some of the highest annual percentage yields you will find across the industry.
We are not financial advisors. The content on this website and our YouTube videos are for educational purposes only and merely cite our own personal opinions. In order to make the best financial decision that suits your own needs, you must conduct your own research and seek the advice of a licensed financial advisor if necessary. Know that all investments involve some form of risk and there is no guarantee that you will be successful in making, saving, or investing money; nor is there any guarantee that you won't experience any loss when investing. Always remember to make smart decisions and do your own research!