Las Vegas is a popular destination on nearly everyone's bucket list, known for its dazzling lights, non-stop entertainment, and luxurious experiences. However, the cost of a Vegas vacation can be a major concern for many.
But do not let your budget stop you from visiting this vibrant city. Whether you're traveling on a tight budget or looking to splurge, there are many ways for you to make the most out of your trip.
We will show you how to create an unforgettable Vegas experience without breaking the bank. In this article, you can expect a rough guide of expenses you will likely incur during your time in Sin City, including food and drinks, hotels, travel, entertainment, and more.
Key Takeaways
How much spending money you bring to Las Vegas will vary depending on the duration of your trip, and the activities you would like to do.
We will outline major costs to consider when budgeting for a trip to Sin City, including hotel and travel, food and drinks, entertainment and sightseeing, transportation, and shopping.
Determining Your Initial Budget
According to the Las Vegas Visitor Profile Study for 2021 by GLS Research, here is a quick breakdown of what average trip expenditures look like:
Days stayed (average): 4.6
Nights stayed (average): 3.6
Lodging expenditures (average per night): $108.82
Average trip expenditures for food and drink: $462.37
Average trip expenditures for local transport: $130.02
Average trip expenditures for shopping: $284.55
Average trip expenditures for shows/entertainment: $32.55
Average trip expenditures for sightseeing: $51.28
Average trip gambling budget (among those who gambled): $717.51
Total excluding gambling: $1069 (inflation-adjusted to $1,230 for 2023)
Total including gambling: $1787 (inflation-adjusted to $1,938 – we didn't increase gambling expenses by 20% since inflation doesn't make people gamble more)
The amount of money you need to take to Las Vegas depends on what you plan to do in the city. With an average stay of 3 nights and 4 days, there are countless options for entertainment and exploration.
To budget accordingly, consider factors such as length of stay, transportation to Vegas (by plane or personal vehicle), hotel accommodations (luxurious or budget-friendly), dining preferences (fancy or casual), and transportation within the city. As you can imagine, the potential for spending in Las Vegas is endless and therefore there can be a HUGE in range in how much you spend.
How Much to Budget For Travel to Las Vegas
Flight Costs to Las Vegas
Airfare can be a significant expense when budgeting for a trip to Las Vegas. The cost of flights can vary greatly depending on where you are flying in from, time of year, airline, type of ticket, and how far in advance you book. To estimate the cost of your plane tickets, check average prices from your nearest airport to Las Vegas.
If you live in the U.S., the flight costs will likely be much cheaper than if you were flying internationally. Here are estimates of what you can expect to pay for a round-trip flight from popular cities in the U.S. to Las Vegas for 2023:
San Francisco flights start at $38
Los Angeles flights start at $42
New York flights start at $308
Seattle flights start at $66
Austin flights start at $38
Miami flights start at $126
Nashville flights start at $76
Boston flights start at $160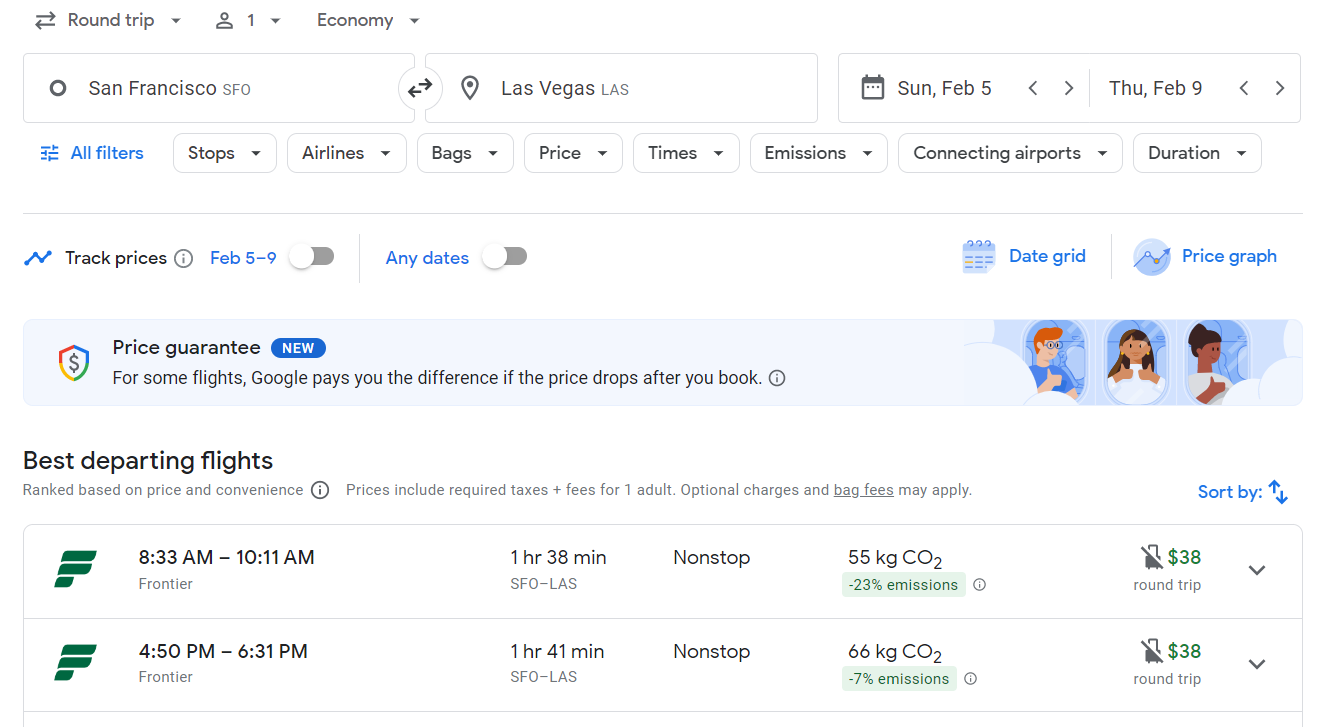 If you are flexible on your travel dates, you could save a lot of money by adjusting your flight dates by one or two days. For example, flying during the week instead of arriving on Friday or leaving on Sunday could be cheaper.
Another cost to keep in mind is travel to and from the airport. If you drive your car to the airport, you will need to pay for short-term parking. Alternatively, you can take a taxi, Uber or Lyft, or public transportation, which will range in cost.
Now that you have a rough idea of travel costs to Las Vegas, here are some ways to save on flights:
Fly during the off-season, such as February, to increase your likelihood of getting a good deal.
Use incognito browsers to prevent websites from tracking your interest in Las Vegas and increasing your flight costs.
Use flight search engines like Google Flights, Skyscanner, and Kayak, which compare prices across hundreds of sources to ensure you get the best deals.
Book economy tickets over first-class and business-class. If you dislike economy seats, pay extra for additional legroom, which will cost much less than first-class tickets.
Use airline miles or frequent flyer miles earned through rewards credit cards or regular flights.
Driving to Las Vegas
If you plan on driving to Las Vegas instead, you will need to consider the cost of gas, distance, parking, and your time and energy. As of January 2023, gas prices in Nevada are around ~$3.95 per gallon, but of course, it varies. For example, if you get your gas from Costco you can get it for cheaper.
For example, if you are driving from San Francisco, which is about 568 miles away, the drive will take about 9 hours. If you get 25 miles per gallon on your vehicle, the round-trip cost of gas will be ~$180. But you will also lose about a day to travel (18+ hours), which could be significant if you have limited time in Vegas. Additionally, you will need to factor in parking costs, as only a handful of hotels on the Strip offer free parking.
How Much to Budget For Hotel Rooms in Las Vegas
When visiting Las Vegas, hotel rooms are another big expense to consider. The city is home to many well-known and luxurious hotels, such as The Bellagio and Wynn. But there are plenty of more affordable options scattered along the Strip too.
The hotel costs in Las Vegas can vary depending on the hotel, type of room, conferences and events, and time of year. Let's look at some of the specifics to get a better sense of potential costs.
In September 2022, I booked a resort room for 4 nights at Bally's Las Vegas on the Strip for my family's trip from January 12th to 16th, 2023. Here is a cost breakdown:
1 Room x 4 Nights: $522
Estimated Taxes and Fees: $69.82
Resort Fees Due at Hotel: $181.20
Total costs: $773.02
In November 2022, I booked a resort room at The STRAT Hotel for a trip with friends from May 17th to 23rd, 2023. Here is a detailed cost breakdown by day:
Wednesday, May 17: $33.15 per night
Thursday, May 18: $33.15 per night
Friday, May 19: $359.00 per night
Saturday, May 20: $409.00 per night
Sunday, May 21: $215.90 per night
Monday, May 22: $33.15 per night
Resort Fee: $239.70 for all nights
Resort Fee Tax: $32.10 for all nights
Room Tax: $144.96 for all nights
Total costs: $1,500.11
As you can see, there is a huge price discrepancy depending on the hotel and the dates you book. The cost of our hotel stay for the weekend at The STRAT was more than 6x that of the weekdays!
While hotel stay costs vary a lot, you can expect the average price of a standard double room in Las Vegas to range anywhere from $30 (3-star hotels) to $120 (5-star hotels) per night. With that said, there are a few ways to save money on hotels when you visit Las Vegas:
Book directly with the hotel to avoid paying commissions to travel agents or online booking sites. You may also find slightly lower prices by booking direct.
If possible, avoid weekends, holidays, and days when events are happening when planning your trip to decrease demand and lower prices.
Consider staying in downtown Las Vegas or away from the Strip to save money.
Request to waive the resort fees as they can accumulate quickly and include hidden expenses such as WiFi and pool access. The worst they can do is say no, in which case, you'll simply get charged as planned.
How Much Spending Money to Take to Las Vegas
Now that we've hashed out the logistics, let's get to the heart of the matter – how much spending money to bring to Las Vegas. The amount you should bring depends on how long you plan on staying and what you would like to do with your time in Vegas.
Based on the 2021 report above by GLS Research, the average person will spend about $831.75 for a 3-day, 4-night trip (not including lodging and travel). If you gamble, your budget could increase to as much as $1549.26. Broken down, the average daily cost can range anywhere from $277.25 to $387.32.
Let's dive into the different spending categories to allocate for your budget.
Entertainment and Sightseeing
Before planning your trip, consider what you want to do while you are in Vegas.
High-end Las Vegas shows like "Absinthe" and "O by Cirque du Soleil" can cost over $100 per seat, while other options like comedy clubs or the Madame Tussauds Wax Museum may be more affordable. Research the costs of different activities on websites like Vegas.com to create a realistic budget. On average, visitors in 2021 spent $177.21 on shows and entertainment and $143.58 on sightseeing per trip. This averages out to about $106.93 per day for a 3-day trip.
If there are many activities you are interested in, consider using the Las Vegas Go City All-Inclusive Pass. Or, if you're looking for a break from the hustle and bustle of Vegas, there are plenty of natural wonders in the area to explore for some peaceful outdoor time.
Here are a few popular attractions and events in Las Vegas and their estimated costs:
O by Cirque du Soleil: $122+
Ka by Cirque du Soleil: $74+
Blue Man Group: $55+
Shin Lim: $55+
Zion National Park: $35 per vehicle, $20 per person (entrance fee)
Death Valley National Park: $30 per vehicle, $15 per person (entrance fee)
Grand Canyon: $35 per vehicle, $20 per person (entrance fee)
Fly LinQ Zipline: $40
Hoover Dam: Free
Madame Tussauds Las Vegas: $43.99+
Shark Reef Aquarium: $29+
The Mob Museum: $29.95
Eiffel Tower Viewing Deck: $27+
Electric Daisy Festival (EDC): $445+
Top Golf: $40+
Helicopter Tours: $89.99+
High Roller: $23.50+
Night clubs and pool parties: Free if you are on the guest list, otherwise $30+ depending on the club
There are also plenty of free attractions where you do not have to spend money, including the Fountains of Bellagio Show, the Conservatory & Botanical Gardens at the Bellagio, street performers, the Fremont Street Experience, the Flamingo Wildlife Habitat, and more.
Food and Drink
Las Vegas also has a wide range of restaurants, including those owned by celebrity chefs, that offer diverse cuisine from all over the world. The prices of these restaurants vary significantly, from a $10 hot dog at Dirt Dog to a $225+ omakase meal at Nobu.
The amount you spend on food will depend on your specific tastes and preferred dining experience. If you are a foodie (like me), you could spend upwards of $200+ a day on fine dining. If you don't care for upscale dining, there are plenty of places with good, inexpensive food that fit your tastes and budget.
On average, fast food could cost you $10-$15 per meal, casual restaurants at $20-$30, and fine dining at $50-$100+. The cost of alcohol also varies, with a bottle at a liquor store costing $10-$40, a drink at a nightclub or pool party at $15-$60+, while nightclub bottle service can cost upwards of $10,000.
To save money, check out happy hour deals on the Strip or Fremont Street. Or, consider eating off the Strip. The average visitor in 2021 spent $462.37 on food and drinks per trip or about $115 per day for a 4-day trip.
Here's a general idea of how much my family spent on dining during our trip to Las Vegas over the MLK weekend:
Bacchanal Buffet at Caesar's Palace: ~$100 per person for dinner
Dirt Dog: ~$10 per person for a late-night snack
La Pizza E La Pasta at Eataly Las Vegas: ~$40 per person for lunch
Tekka Bar: $22 per person for lunch
888 Korean BBQ: $55 per person for dinner
As you can see, the cost of an average meal varies depending on where you decide to eat.
Shopping
Like with the other expenses, how much spending money you bring to Las Vegas for shopping will depend on your shopping habits. You could spend $0 if you don't care for shopping or thousands of dollars if you are a shopaholic.
If you enjoy shopping, the Las Vegas Strip is home to several large shopping malls, including The Forum Shops at Caesars Palace, The Grand Canal Shoppes at The Venetian, and The Miracle Mile Shops at Planet Hollywood. These malls feature a wide variety of luxury retailers, such as Hermes, Louis Vuitton, and Gucci, as well as popular department stores and specialty shops, such as Nike, Adidas, Sephora, and Steve Madden.
Additionally, Las Vegas has several outlet malls and discount shops, including the Las Vegas North Premium Outlets and the Las Vegas South Premium Outlets. These malls offer deals on a wide range of items, including clothing, accessories, and home goods.
For those looking for unique and local souvenirs, there are also several markets and bazaars in the city, such as the Fremont Street Experience and the Las Vegas Arts District.
Transportation
There are various ways to get around Las Vegas, catering to different budgets and preferences.
Public transportation options include city buses, also known as The Deuce, which cost $6 for a 2-hour pass, $8 for a 24-hour pass, and $20 for a 3-day pass. Ride-sharing services like Uber and Lyft are also popular, with prices ranging from $10 to $30 per trip. Taxis are another option, with fares averaging around $15 to $25 per trip. For those who prefer luxury transportation, limousines are available at a rate of $60+ per hour.
It is worth noting that the average visitor in 2021 spent $159.73 on local transportation per trip or about $39.93 per day on a 4-day trip.
During my last trip, my family and I used a mix of Uber/Lyft and taxis. We found that generally, taxis were slightly cheaper and easier to call from the hotel and airport. For example, our trip from the airport to our hotels was ~$30 by taxi after tipping and fees. When we checked Uber, it was about $35 before tipping. If you decide to use taxis extensively, we recommend paying in cash, as there is a credit card swipe fee if you use a card.
Gambling
In 2021, among visitors who gambled, the average person spent $717.51 on gambling. The average time spent on gambling per day was 3 hours, while 76% of visitors said they gambled during their time in Las Vegas.
The Las Vegas Strip offers a wide range of casinos and luxury resorts, each with many gambling options such as slots, poker tables, and sports betting. Some popular casinos on the Strip include Caesar's Palace, Bellagio, and Venetian, each known for its unique design and gambling options.
If you plan on gambling during your trip, set a clear budget of how much you are willing to spend for the duration of the trip. To stay within budget, set a daily limit and divide cash into envelopes labeled by day. That way, you have a physical reminder of when to stop.
To stretch your gambling budget, consider visiting local casinos where minimums are usually lower. For example, a lower-end hotel's casino floor can have a minimum bet of $15 per table, while a higher-end hotel's casino floor can have a $50 minimum bet per table.
Miscellaneous Items To Consider
We have covered the bulk of where your spending money will be going during your time in Las Vegas, but there are a few more miscellaneous costs to consider:
Tipping: We recommend getting a stack of $1 bills for tipping people for their services. For example, if you check your bags with the bellman at the hotel or request room service or cleaning, you should have some spare bills to tip them. Or, if you are gambling and request a free drink, it is a common courtesy to leave the drink waiter a small tip.
Hotel fees: Many hotels in Las Vegas charge additional fees for things like parking, internet access, and resort fees. These fees can add up, so check what fees your hotel charges and factor them into your budget.
Souvenirs: Las Vegas has many souvenir shops that can be tempting to visit. If you like buying trinkets to remember your trips, set aside a small budget for souvenirs.
The Bottom Line
As you can see, the cost of visiting Las Vegas depends on a variety of factors, such as the distance of your travel and the type of experiences you want to have while there. For those looking to enjoy luxury hotels, food, and shows, your budget could be thousands of dollars for a week.
However, for those who enjoy high-stakes gambling, the cost can be significantly higher, with professional poker players potentially spending or winning over $1 million in a short period. Ultimately, the amount of money needed for a trip to Las Vegas is determined by you.
We are not financial advisors. The content on this website and our YouTube videos are for educational purposes only and merely cite our own personal opinions. In order to make the best financial decision that suits your own needs, you must conduct your own research and seek the advice of a licensed financial advisor if necessary. Know that all investments involve some form of risk and there is no guarantee that you will be successful in making, saving, or investing money; nor is there any guarantee that you won't experience any loss when investing. Always remember to make smart decisions and do your own research!