Credit cards play an essential role in our lives, offering convenience, security, and the potential to earn valuable rewards. With countless options available, choosing the right card that aligns with your financial goals can be overwhelming. We'll cover an in-depth review of the Fidelity® Rewards Visa Signature®, including its key features, credit card rewards, drawbacks, fees, and more, to help you make an informed decision about this particular credit card.
Fidelity® Rewards Visa Signature® Review Summary
Issued by Elan Financial Services, the Fidelity® Rewards Visa Signature® offers attractive rewards for those prioritizing saving money. With a flat, unlimited 2% cash back on all purchases, this card stands out among credit cards with no annual fees.
But, the one major caveat is that you must redeem your rewards into eligible Fidelity accounts to enjoy this generous rate. If you do not already have an account with Fidelity, the company can help you open one when you apply. Additionally, the card provides valuable secondary benefits, including purchase protection and travel benefits.
If you prefer immediate rewards or don't want a Fidelity account, several other credit cards in the market also offer a 2% cash back, but may have drawbacks or requirements too. It's worth noting that the Fidelity® Rewards Visa Signature® allows redemptions into various Fidelity accounts, including retirement savings options like 401(k)s and HSAs. However, it doesn't offer options for cash or deposits with other banks.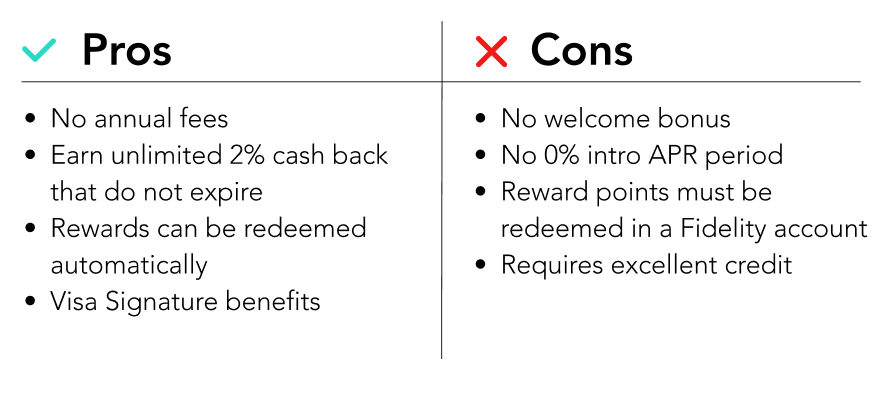 Fidelity® Rewards Visa Signature® Review Highlights
Unlimited 2% Cash Back
With this card, you won't have to worry about remembering which spending categories to use the card for, like the Chase Freedom Flex. Instead, you'll earn 2 reward points per dollar on all eligible purchases, which translates to 2% cash back when redeemed into a qualifying Fidelity account. There are no spending limits or restrictions on reward earnings, allowing you to accumulate unlimited points. Your points will never expire as long as your account remains open and in good standing.
No Annual Fee
Many of the best credit cards in the market come with hefty annual fees. Luckily, the Fidelity Rewards credit card comes with no annual fee. That means you won't have to worry about how many points you need to earn to offset the cost of owning the card.
Automated Savings
If you are already saving for specific financial goals, such as retirement or college, the Fidelity® Rewards Visa Signature® Card allows you to contribute to them with minimal additional effort. Additionally, within the Fidelity ecosystem, there are multiple funding options available. You can deposit your rewards into a single eligible Fidelity account or distribute them across up to five qualifying accounts. Furthermore, you can use your points to fund a loved one's account, such as your partner's or children's.
Secondary Benefits
In addition to earning rewards on purchases, cardholders have access to various secondary benefits, including travel and emergency assistance services, lost luggage reimbursement, zero liability protection, and more.
Travel and Emergency Assistance Services
Through the Visa Signature program, you can get 24-hour toll-free emergency assistance and referral services. By contacting the benefits administrator, you can access a range of valuable support, including sending messages to your family, guidance to local emergency resources, referrals to medical professionals, assistance with lost luggage, and more. But, while the assistance comes at no cost, any expenses incurred, such as medical bills, are your responsibility.
Lost Luggage Reimbursement
You can get reimbursed for up to $3,000 if your checked luggage or carry-on is lost due to theft or misdirection by a common carrier. Note that the reimbursement is for the difference between the "value of the amount claimed" and the common carrier's payment of up to $3,000. It is also supplemental to other reimbursement policies. You and your immediate family members are all eligible when you pay for the trip using the card.
Travel Accident Insurance
Because this card is a Visa Signature card, you, your spouse, and your dependents will be automatically insured for $250,000 when you use the card to pay for travel expenses. However, there are exclusions for this insurance, including loss from emotional trauma, mental or physical illness, disease, and pregnancy, among others.
Roadside Dispatch
If you get into a driving accident, you can rely on the 24/7 dispatch network to access emergency roadside assistance. This comprehensive service includes standard towing, locksmith service, fuel delivery, and tire changes. Note that each service may involve a separate cost, so check the specific fees associated with each service beforehand.
Emergency Cash and Card Replacement
If you lose your card, you can get a replacement quickly from Visa and/or get emergency cash at a convenient location.
ID Navigator by NortonLifeLock
As a cardholder, you will receive complimentary access to ID Navigator by NortonLifeLock, which is an identity protection program. This benefit was added in 2021 after the card removed its extended warranty and auto rental damage waiver perks.
Zero Fraud Liability
As with most credit cards, this Fidelity credit card comes equipped with zero fraud liability. If someone uses your card without your permission and you report the incident, you will not get held liable for the costs.
Visa Signature Concierge Service
As a cardholder, you can also access the complimentary Visa Signature Concierge service, available 24/7. You can call 1 (800) 953-7392 anytime to get assistance with booking travel itineraries, event tickets, dinner reservations, hotels, and more.
Visa Signature Luxury Hotel Collection
Additionally, you can access the Visa Signature Luxury Hotel Collection, which includes a range of premium benefits, including automatic room upgrades (subject to availability), food and beverage credits, complimentary breakfast for two, best available rate guarantees, and more. However, to be eligible for the benefits, you must book your travel through the Visa Signature Luxury Hotel Collection website.
Fidelity® Rewards Visa Signature® Review Drawbacks
No Sign-up Bonus Offer
Most cash-back credit cards, even those with no annual fee, come with a sign-up bonus of at least $100 to $200 you can earn after meeting the minimum spending amount. However, this card does not offer a bonus. While the 2% cash-back rate can recoup some of the reward points, you might earn more in the first year of account opening with a credit card that offers a bonus.
No Introductory 0% APR
There is no 0% introductory APR offer for new purchases or balance transfers for this card. If you are looking for a card with a promotional APR period, the Fidelity® Rewards Visa Signature® may not be right for you.
Must Be a Fidelity Customer
Most cash-back credit cards with similar rewards, such as the Citi® Double Cash Card, allow you to redeem your rewards with minimal variation in their benefits. However, to earn the full 2% back on your purchases for this Fidelity card, you must deposit your rewards into an eligible Fidelity account. If you opt for other redemption options, such as travel and statement credits, the points are worth less.
Limited Redemption Options
There are a couple of limitations when it comes to redeeming your rewards. You can only redeem your rewards into an eligible Fidelity account once your point balance reaches 2,500, which is equivalent to $1,250 in card purchases. Keep in mind that if you choose to redeem your rewards to a Fidelity retirement account, you still need to abide by the total contribution limits. If you have other retirement accounts, you could potentially exceed the limit, triggering penalties.
Requires Excellent Credit
You need an excellent credit score to get approved for this card. Otherwise, you may need to focus on building your credit score before applying for this card.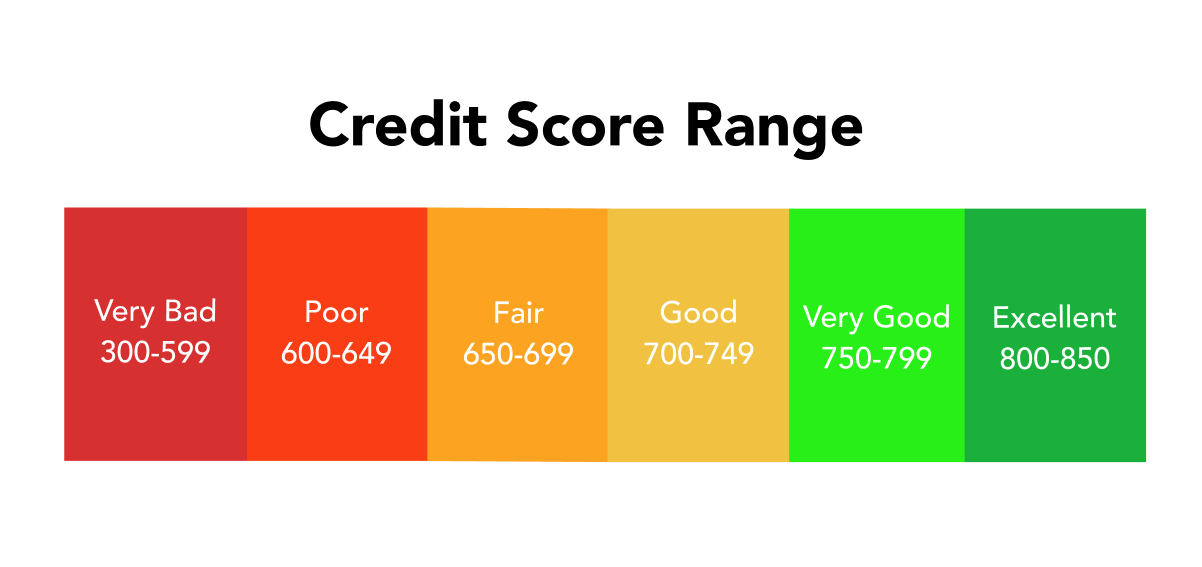 Fees and Rates
Interest Rates
The card has a regular rate of 18.74%, which is slightly below the national average of 24.14%, according to Forbes (as of May 2023).
Balance Transfer and Cash Advance Fees
There is a balance transfer fee of 3% of the transfer amount with a $5 minimum. The same goes for cash advances.
Foreign Transaction Fees
There is a foreign transaction fee of 1% of each transaction. This fee includes purchases made abroad and from international merchants.
Late Payments
If you make a late payment, you will get charged $29 the first time and up to $40 for a second within 6 months.
Other Details to Consider
Rewards Redemption Details
As mentioned earlier, to redeem your points at a 2% cash-back rate, you must deposit your rewards into an eligible Fidelity account. Qualifying Fidelity accounts include:
Traditional IRA
Roth IRA
Rollover IRA
Simplified employee pension IRA
Charitable Giving Account
Health savings account (HSA)
Brokerage account
Cash management account
Fidelity Go
529 college savings plan account
You can also redeem your points for travel, merchandise, gift cards, or a statement credit. However, these redemption options are not as valuable, so it's best to set up your redemption to a Fidelity account to earn the maximum rewards.
You can either set up automatic redemption or use the on-demand option to redeem your rewards. To automatically redeem your rewards, set up your eligible Fidelity account to receive cash deposits. At the end of each month, your points balance will get checked. If it exceeds 2,500 points, the points will get converted to cash and automatically deposited. For an on-demand redemption, you manually redeem your points at any time.
How to Maximize Your Rewards
Since the Fidelity card has a flat rate reward structure, you should make all purchases using this card to maximize your rewards (if you do not have any other credit cards). Then, redeem your points into an eligible Fidelity account.
Who This Card Is For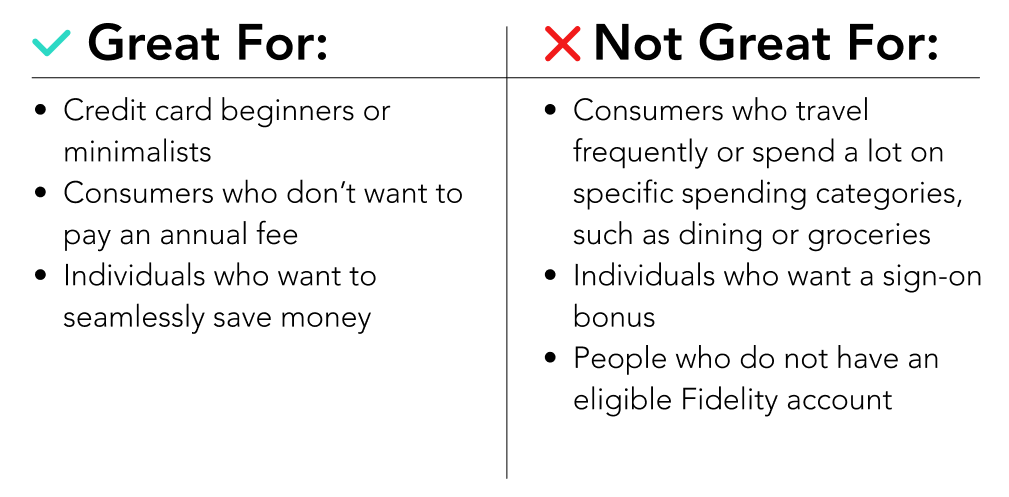 If you want a hassle-free and generous cash-back card, the Fidelity® Rewards Visa Signature® gives you a simple way to earn rewards without needing to track different earnings categories. The credit card is geared towards individuals with excellent credit who prioritize investing in their future, particularly with Fidelity. Since you need a Fidelity account to unlock the card's unlimited 2% cash back, the card is best for existing Fidelity customers or people interested in investing with Fidelity.
How Does the Fidelity® Rewards Visa Signature® Card Compare to Other Similar Cards?
Fidelity® Rewards Visa Signature® Card vs. Citi Double Cash® Card
Both the Fidelity® Rewards Visa Signature® and Citi Double Cash® offer a flat-rate unlimited 2% cash back, with the latter earning 1% when you make a purchase and an additional 1% when you pay for those purchases. Like the Fidelity card, the Citi Double Cash® also comes with no annual fee.
One significant advantage of Citi Double Cash® is that it doesn't require a Fidelity account, making it more accessible to the broader public. Additionally, the card offers a 0% introductory APR on balance transfers for 18 months, providing an opportunity to save on interest charges.
However, after the introductory period, the standard variable APR will apply, ranging from 18.99% to 28.99% based on creditworthiness. This rate is slightly higher than Fidelity's rate, which may lead to extra interest charges if you tend to carry a balance. The card also has balance transfer fees, starting with either $5 or 3% of the transfer amount, whichever is greater, within the first 4 months of account opening. After that, the fee increases to 5% of each transfer with a minimum of $5.
On the other hand, the Fidelity® Rewards Visa Signature® Card offers some travel protections due to its Visa Signature status, which the Citi Double Cash® Card, operating on the Mastercard network, does not provide.
Fidelity® Rewards Visa Signature® Card vs. Wells Fargo Active Cash® Card
Similar to the Fidelity® Rewards Visa Signature® Card, the Wells Fargo Active Cash® Card offers unlimited 2% cash rewards on purchases with no annual fee attached. But, the Wells Fargo card has a few advantages over the Fidelity card.
With the Wells Fargo card, you can earn a $200 welcome bonus when you spend $500 in purchases in the first 3 months of account opening. The card also offers a 0% introductory APR for 15 months from account opening. Afterward, the variable APR will be 19.99%, 24.99%, or 29.99%. Note that these rates are much higher than Fidelity's rates.
However, the Fidelity card does not have an introductory APR offer. Additionally, it comes with travel and purchases protections through its Visa Signature status, while the Wells Fargo card may offer benefits like cell phone protection and discounts on car rentals, depending on the specific cardholder agreement.
Fidelity® Rewards Visa Signature® Card vs. Capital One SavorOne Cash Rewards Card
The Capital One SavorOne Cash Rewards credit card offers unlimited 3% cash back on dining, entertainment, popular streaming services, and at grocery stores (excluding superstores like Walmart and Target). For all other purchases, you can earn 1% cash back. Additionally, you can earn 10% cash back on purchases made through Uber and Uber Eats, plus complimentary Uber One membership statement credits through November 24, 2024. You can also earn 8% cash back on Capital One Entertainment purchases. If you book hotels and rental cars through Capital One Travel, you can earn an unlimited 5% cash back.
Both cards do not charge an annual fee, but the Capital One card has a 0% intro APR on purchases and balance transfers for 15 months. Between the 2, the Capital One SavorOne Cash Rewards card is best for people whose primary spending is on food and experiences. Alternatively, you can pair both cards by using the Capital One card for dining and entertainment and the Fidelity card for all other purchases.
Editor's Rating
The Fidelity® Rewards Visa Signature® is best for people who want to earn cash back for everyday spending without having to track different spending categories. The card's simple rewards structure is an attractive selling point for credit card minimalists. Combined with the ability to redeem rewards into a Fidelity investment account, this card works well for people who want to focus on saving money.
However, other cards in the market allow you to earn an unlimited 2% cash back without opening a separate account to maximize your rewards. If you do not want to mix your rewards points with your savings accounts, you may want to consider other cards, such as the Citi Double Cash®.
The Bottom Line
If you already have a Fidelity account, opening a Fidelity® Rewards Visa Signature® Card could help you save money without a lot of thought or management needed. But, if you are not a Fidelity customer and prefer using other brokerages for investing, you are better off looking for another card.
We are not financial advisors. The content on this website and our YouTube videos are for educational purposes only and merely cite our own personal opinions. In order to make the best financial decision that suits your own needs, you must conduct your own research and seek the advice of a licensed financial advisor if necessary. Know that all investments involve some form of risk and there is no guarantee that you will be successful in making, saving, or investing money; nor is there any guarantee that you won't experience any loss when investing. Always remember to make smart decisions and do your own research!