If you've ever thought, "I can't afford family travel together with my kids. I don't have enough money for that," this guide is precisely what you need. Traveling the world with your family on a budget may sound like a far-fetched dream, but it's not impossible. It can be an opportunity to explore alternative avenues and discover hidden gems that fit within your budget.
The key is to commit to minimizing expenses and finding innovative ways to stretch every dollar. There are many ways to optimize your travel costs without compromising the experience. Together, we'll explore the ins and outs of budget family travel and ways to explore the world without draining your bank account.
Key Takeaways
To plan family travels on a budget, there are a few steps you should take, including minimizing travel costs, looking for cheap family accommodation, eating local, and more.
Don't forget to look into cashback sites and credit card points to earn some money back.
Minimizing Transportation Costs
Choose Your Destinations Carefully
One of the easiest ways to cut costs is to pick a destination with a low cost of living. While it may be tempting to opt for somewhere familiar and convenient, many lesser-known countries in Asia, Africa, the Americas, and even Europe offer excellent opportunities for budget family travel.
For example, Vietnam, Thailand, Malaysia, and the Philippines are fairly affordable countries in Asia. If you are heading to the Americas, consider Mexico, Bolivia, Colombia, Guatemala, or Nicaragua. In Europe, take a look at Romania, Hungary, Greece, the Czech Republic, Croatia, or Poland. While this is not an exhaustive list, these are all places that could potentially cost less than your typical vacation.
Additionally, check the exchange rates and visa fees beforehand. Picking a destination with favorable exchange rates could make your money go further. Some countries may also require a visa to enter, which could cost hundreds of dollars per person. For example, when my family went to China, we all had to apply for tourist visas. Look for countries with a low visa cost or free entry.
If you plan on traveling internationally, have all your passports up to date early. That way, you will not have to pay extra to expedite your passports. And take any relevant medical cards or documents in case you need to see a doctor while abroad.
Book Travel Ahead of Time
If you know when you will be traveling early on, book your flights as soon as possible. Look for cheap ways to get from the airport into the city and back. Leave plenty of time to check in and consider choosing unpopular flights or flights with layovers.
Use Flight Comparison Sites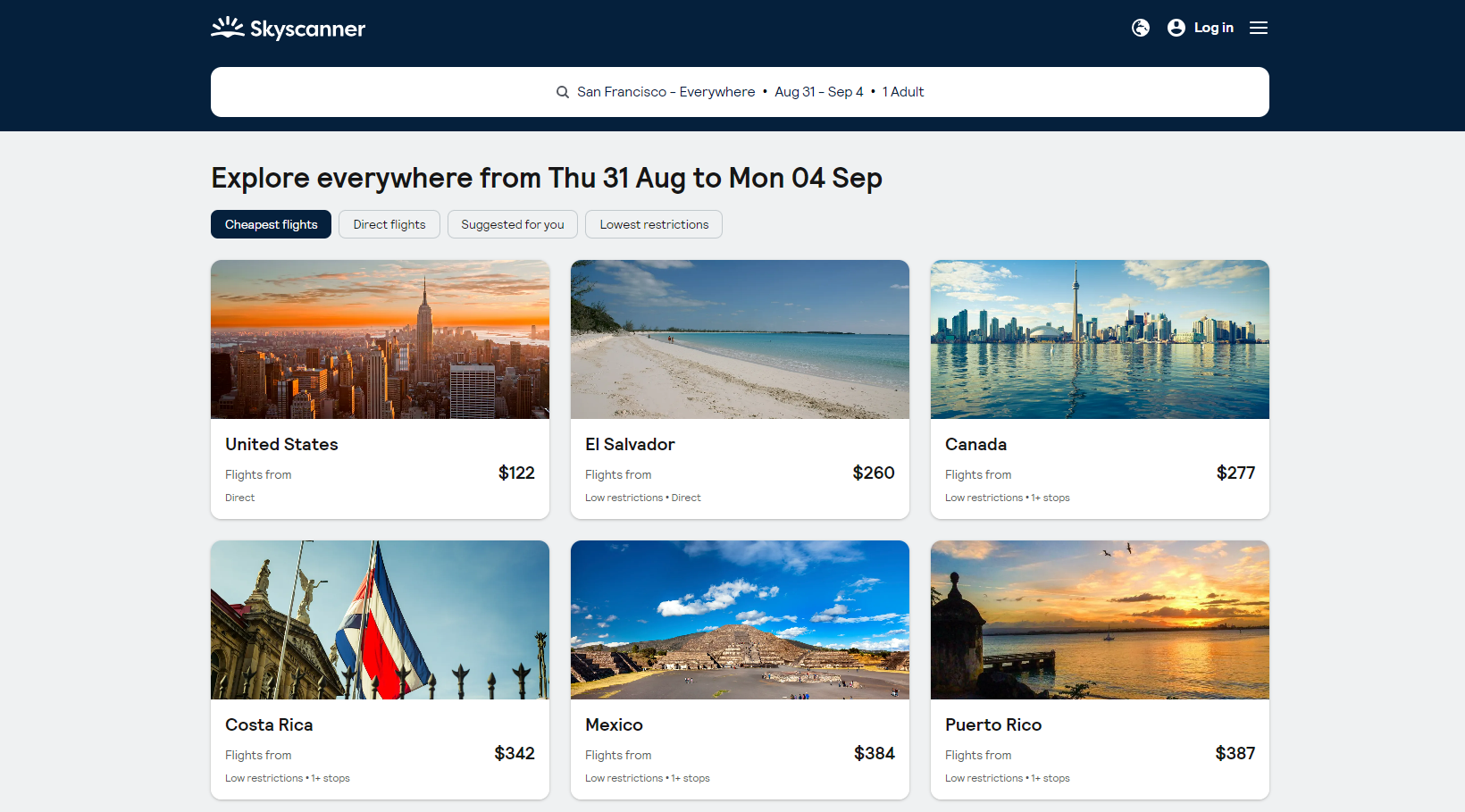 More often than not, flights are one of your highest expenses. To save money on travel, do thorough research and use flight comparison sites like Google Flights, Scott's Cheap Flights, or Skyscanner in incognito mode. Scott's Cheap Flights offers paid membership with mistake fares and specific updates, while Skyscanner is a straightforward aggregator with price alerts, flight deals, and the option to explore cheaper destinations.
Flexibility is key, especially for long-term travel. Let the price of plane tickets guide your destination choices. Subscribe to flight deal notifications and consider flying with budget airlines if you tend to travel lightly. Many U.S. airlines allow kids under 2 to fly for free if they don't occupy a seat. Additionally, flying on the weekdays is usually cheaper as most people travel on the weekends.
Choose Family-Friendly Airlines
When selecting an airline for your family, consider more than just the initial airfare cost. Additional expenses, such as luggage fees, can significantly impact your overall budget. Checking luggage for a family roundtrip flight can easily add up to an extra $100 or more.
For example, Southwest Airlines does not offer many perks, but they are an excellent choice for family travelers. One of my favorite parts about flying Southwest is that everyone gets 2 free checked bags, which is helpful if your family has a lot of luggage.
Southwest Airlines also offers multiple options for domestic flights, affordable tickets, and the added perk of a companion pass. The companion pass allows a single person to fly with you for free during the year you earn it and the following calendar year. While earning the companion pass typically requires flying 100 one-way flights or earning 135,000 points, there are alternative ways to acquire it.
One common method is to sign up for a Southwest Credit Card when they offer the companion pass as a promotional bonus. This can lead to significant savings, especially for families, as you can enjoy nearly 2 years of free companion travel. Sometimes, Southwest will also have companion pass promotions. For example, in April 2023, the airline offered a limited-time promotional companion pass.
It's worth noting that some people may have reservations about Southwest's open seating policy. But, families traveling with young children are allowed to board between the A and B groups, ensuring that you can sit together without any issues.
Research All Transport Options
When planning your transportation, compare options to find the most affordable one. Instead of automatically opting for a flight, consider if traveling by train, car, or bus might be cheaper. Take into account hidden costs as well. For instance, an overnight sleeper train may seem pricey, but it could save you the expense of a night's hotel stay in a city. If you're planning multiple trips within Europe, consider getting a Eurail pass. Research budget flights and airlines that may fly into an airport near your desired city rather than directly to it.
For internal travel within a country, explore the local transport, coach, or bus network. In many places, you can hop from city to city for a minimal cost. When I was traveling in the Netherlands, I took a FlixBus from Rotterdam to Amsterdam, which cost less than $10.
Consider using local transportation options like buses, trains, or rideshare instead of taxis or private minibusses. Before your trip, install the relevant apps, such as Grab or Uber, and purchase a local SIM card at the airport. This way, you can book a ride upon arrival instead of relying on expensive airport taxis. However, be aware that these services may not be available in some locations or countries, so conduct thorough research beforehand.
If you need a car, Turo is a great platform for finding budget car rentals. It operates as a peer-to-peer car rental service where you deal directly with the owner. Turo can provide significant savings compared to traditional car rental services and give you added flexibility in terms of pick-up and drop-off locations. Ensure you check the availability and terms of Turo in your desired location.
Relocate a Vehicle
Sometimes, rental companies may need to move a car or RV from one rental office to another. This process can be fairly expensive because it requires hiring a transport vehicle or paying an employee to drive the vehicle one way and cover their flight back.
That's why they look for people willing to do it for them by only charging a few dollars or euros a day to use the vehicle. While you may need to pay for gas, they commonly give out partial fuel reimbursement or free kitchen kits you can use on the drive. The U.S., Australia, and New Zealand are the most common places where you can relocate an RV or car. You can use a site like Imoova to look for these deals.
Embrace the Road Trips
When flights are not affordable or practical for your family, embracing a road trip can be a fantastic alternative. While gas prices may be high, road trips are generally cheaper than flying, especially for large families. Once you experience a few road trips, you'll realize that spending long hours in the car isn't as daunting as it may seem.
To plan a road trip, research destinations that are within a 9 to 10-hour driving distance from your location. Alternatively, consider designing a multi-day road trip to visit several different places within a particular region. In the past, my family has driven from San Francisco to Los Angeles to San Diego and back, which gave us time to see multiple cities in a short time.
Securing Affordable Accommodations
Travel Off-Peak
Traveling off-peak is an excellent strategy for affordable family travel. By embracing less-than-ideal weather and avoiding peak seasons, festivals, and holidays, you can significantly reduce costs and enjoy a more relaxed travel experience.
During high seasons, accommodations are more expensive, activities come with higher price tags, and budget options tend to sell out quickly. For example, during the Easter weekend, flights into Rome and accommodations will be much more expensive than usual because many people are traveling to the Vatican. (I made that mistake once and learned my lesson!) By avoiding peak times, you can secure better deals on lodging and airfare.
For example, visiting London in the winter or Paris in the fall can reduce hotel and airfare costs by 40-70%. Additionally, traveling right after major holidays, such as the 4th of July or Memorial Day Weekend, can often lead to more affordable rates.
When it comes to weather, consider traveling during shoulder seasons when popular destinations experience slightly less favorable conditions. For example, in many countries, like Southeast Asia and Middle America, the monsoon season creates shoulder seasons with occasional showers. While you may encounter some rain, it won't be constant, and the destinations are still perfect for exploration.
However, traveling off-season doesn't necessarily mean enduring cold weather and rainy days. One of the perks is that crowds are significantly reduced, offering you the opportunity to enjoy popular attractions with fewer people. Picture-perfect beaches with only a handful of visitors are common during off-peak times.
Travel Outside the School Holidays
When it comes to family vacations, one of the biggest frustrations as parents are being bound to school holidays. If your children are still in school, consider discussing the possibility of taking them out of school for a short period to plan your budget family getaway during off-peak times. Work with their teachers to find solutions to minimize disruption, such as scheduling homework or lesson plans during the trip or finding a less burdensome time in the school year.
For more flexibility, consider homeschooling, allowing you to travel outside of school holidays altogether. Alternatively, if your children are young, taking advantage of the period before compulsory schooling can provide more freedom to travel without restrictions. Long-term or full-time travel is another option, allowing you to avoid school holidays and high seasons entirely. Planning a gap year, traveling for a few months, or embracing full-time travel can result in significant cost savings and more opportunities to explore destinations during their off-peak times.
Book a Budget Hotel, Hostel, or Vacation Home
Budget hotel chains like Premier Inn, Travelodge, and Days Inn usually offer affordable rates, especially when booked online well in advance. While there may be restrictions on the number of people allowed in a room, you can sometimes sneak an extra person without anyone noticing. These options provide basic amenities and can be a cost-effective choice.
When booking hotels, take advantage of websites like booking.com that offer discounts for email subscribers and have flexible cancellation policies. These benefits allow you to secure a rate while continuing to search for better offers. Additionally, booking.com has a loyalty program that provides discounts, free breakfast, and upgrades.
Hostels also offer great deals, although the per-person pricing may not be as cheap as budget hotels, especially if you have a large family. Usually, you can book a private room or pay a set rate per bed. Staying in a large dormitory might be cheaper than a private family room, although you may have to share the room with other guests. Some hostels also allow camping on their grounds for a small fee.
Airbnb or Vrbo is another excellent option. They often offer a more personal experience, and hosts may provide local tips and itineraries to help you save money on restaurants and transportation. However, be cautious of rising service and cleaning fees that can impact the overall cost. Compare the benefits of home rentals, such as access to a kitchen, multiple rooms, laundry facilities, and privacy, with hotels. If your stay is short, hotels might be cheaper due to additional fees associated with home rentals. For longer stays, home rentals often offer better value.
When it comes to booking accommodation, there are two approaches: booking well ahead or going for last-minute deals. Booking well in advance allows you to secure the best rates and availability. However, booking last minute, particularly in Asia, can lead to significant discounts as establishments aim to fill up rooms. You can even try negotiating for extra discounts or free breakfasts, as they may be willing to accommodate your requests.
While booking last minute can yield discounts, most budget-friendly options may already be taken. If you come across an amazing place at a reasonable price with great reviews during your travel planning, it's advisable to book it right away.
Consider factors such as kitchen access, multiple rooms, and privacy when comparing home rentals to hotels. Utilize discounts, loyalty programs, and cancellation policies provided by booking websites to secure better rates and flexibility in your travel planning.
Stay in the Airport Overnight
If you are flying into a country late at night or have an overnight layover, you could save a bit of money by staying in the airport and trying to check in to your room early the next day. Some airports, such as Bangkok's Suvarnabhumi Airport or Tampa International Airport, have day beds or sleep pods available you can book by the hour, which can cost less than booking an extra night at the hotel.
House Sit or Swap
House swaps and house sitting offer opportunities for cost-effective family travel. These alternatives allow you to stay in someone else's home either by swapping houses with them or taking care of their house and pets while they are away on vacation.
House swaps involve exchanging houses with another family. Websites, such as HomeExchange, facilitate connections between interested families. You stay in their home while they stay in yours. This arrangement offers a unique opportunity to experience a new destination while eliminating accommodation costs. It's important to find a compatible family and establish clear communication and agreements before proceeding.
House sitting involves taking care of someone else's house and often their pets while they are on vacation. Websites like TrustedHousesitters connect homeowners with reliable house sitters. In exchange for your services, you get to stay in their home for free. This arrangement allows you to experience living like a local and can be a win-win situation for both parties.
This approach supports the local community, provides a richer cultural experience, and often costs less than traditional accommodations. HomeStay is a reputable website with a database of thousands of local hosts who offer their homes for stays. The platform even allows you to filter hosts based on hobbies and interests, enhancing your experience and creating potential matches.
Consider Camping or Glamping
Camping with a tent or a campervan can provide a cost-effective way to travel, especially in countries with high accommodation prices. While renting a campervan incurs some costs, it is generally cheaper than staying in hotels and renting a separate car. Look for affordable or free campsites in the area, and check if camping is allowed.
Taking a tent is the most budget-friendly and flexible option. You can search for cheap, free, or wild campsites to further reduce costs. However, ensure that wild camping is legal in the area you choose. In some cases, if you cannot find a designated campsite or suitable spot, consider asking locals or farmers if you can camp on their land.
When it comes to eating cheaply while camping, planning meals and bringing food supplies can help you save money. Consider packing non-perishable items, snacks, and cooking essentials to prepare meals at your campsite. This way, you can avoid relying on expensive restaurants or fast food. Remember, staying well-fed and hydrated is essential, particularly when engaging in outdoor activities and traveling with kids.
If traditional camping doesn't suit your preferences, you can rent an RV, travel trailer, or campervan. Peer-to-peer platforms like Outdoorsy or rental services like Escape Campervans allow you to rent a cozy RV for a weekend getaway or an extended road trip. This alternative provides the convenience of accommodation on wheels and the freedom to explore various destinations. Additionally, you can search for free camping spots (boondocking) to further minimize costs.
While camping or glamping may involve upfront costs for equipment or rentals, long-term savings can make it a worthwhile investment. Consider purchasing camping gear like tents and sleeping bags that can be used repeatedly. If you prefer not to own camping equipment, you can explore options like renting gear from outdoor equipment retailers such as REI.
Saving on Food and Drinks
Prepare Your Own Meals
Not eating out every meal will do wonders for your wallet. Focus on local products when grocery shopping and cooking. Embrace the local cuisine and ingredients instead of trying to recreate dishes with ingredients from home. This allows you to experience the local flavors and helps you save money by avoiding expensive imported goods.
Book accommodations with a kitchenette or access to a kitchen. Many hostels, guesthouses, and rental apartments provide kitchen facilities. Having a fridge means you can store leftovers and minimize food waste, further stretching your budget.
If your house rental or hotel room only comes with a mini-fridge and microwave, you can still enjoy simple meals. Bring groceries with you or purchase them upon arrival to have supplies readily available. For example, rotisserie chicken, pre-made salads, bread, lunch meat, and cheese can be used to make quick and affordable meals. Cereal, milk, yogurt, oatmeal, fruits, and ramen are also great for keeping costs low. Travel-sized condiments like individual packets of olive oil and soy sauce can be convenient for on-the-go meals.
Consider enjoying outdoor meals and picnics instead of dining at restaurants. Pack a picnic and find a scenic spot to savor your meal. This not saves money, but also allows you to enjoy the beautiful surroundings and gives children the freedom to run around.
When camping, take advantage of the opportunity to cook delicious barbecues or meals over a campfire. It adds to the adventure and creates memorable moments for the family.
Take Your Own Plane Food
If you have a long flight, pack some food to keep you nourished in the meantime. While you cannot bring drinks into the airport, you should be able to get most food through security. And bring a reusable water bottle to fill up at a water fountain in the airport. That will save you a few dollars so you don't have to buy overpriced water.
Eat Street Food
If you are traveling to a new place, eating local is a must! Take a detour from the main roads and tourist streets and look for local restaurants or street food vendors. You'll enjoy a broader variety of foods at a lower cost while feasting on local foods you may otherwise not have tried. For example, in many parts of Asia, you can get an entire meal for $5 or less per person at a street stall.
Eat Fast
Ordering fast food is usually cheaper than dining at a restaurant and could be fun to explore. For example, 7-Elevens in Japan are very popular because they offer affordable ready-made meals and other snacks and desserts. Convenience stores in South Korea are another popular concept, where you can get ready-to-eat kimbap, sausages, hard-boiled eggs, and more. Most are also open 24/7, perfect for late-night meals or early-morning breakfast.
Eat Family Style
Eating family style is common in Chinese culture and for good reason. You can order a few different dishes and share them with everyone, which can be much cheaper than each person ordering an entree, especially if some people in your family have small appetites. You can try a variety of food while saving money on an extra meal or two.
Save on Drinks
Carrying a reusable water bottle helps reduce plastic waste but will also save you money. Most public areas, hotels, and guesthouses have water fountains where you can refill your water bottle for free. Additionally, consider limiting how many drinks you order at a restaurant. Usually, the prices are marked up, and you can find cheaper options at a supermarket or street stall.
Finding the Best Value Activities and Attractions
Visit Tourist Information
Local guides, newspapers, and visitor centers are all free resources you can use to find cheap or free local events. Many cities offer walking or biking tours and have free museum days. You can also ask if there are any multi-passes, city cards, and deals on city cars or local transportation.
When I went to Seattle, I bought the Seattle CityPASS, which allowed me to go to the Space Needle twice, the Seattle Aquarium, Chihuly Garden and Glass, the Museum of Pop Culture (MOPOP), and Woodland Park Zoo all for only $111! And don't forget to ask if there are family discounts. Usually, attractions are much cheaper for kids than adults.
Ask Online
Go online on sites like Reddit, YouTube, or TripAdvisor to see what others recommend. You can use these sites to discover the best tips and tricks for free. In the past, I've followed 3- to 5-day itineraries I found on different travel blogs and had lots of fun.
Organize Your Own Travel
If you have some extra time, plan everything by yourself instead of booking an expensive organized tour. That includes arranging your transportation, booking accommodation, and planning activities.
As you pick and choose what activities to do, avoid only staying at touristy spots. Leave the beaten track and explore less famous places.
While you are on your family vacation, consider slow travel. The more places you go, the more money you will spend. Instead of jam-packing your itinerary, take some time to relax and wander around, giving your family time to enjoy themselves. Not only will your family be more relaxed and happy, but you will also have more time to get to know the area better.
Look For Free Things to Do
Planning free activities and experiences during your family trip can help offset costs and keep your budget in check. Research your destination for free things to do with a quick search on Google or DuckDuckGo. There are often amazing playgrounds, fountain or light shows, performances, museums, and other attractions you can enjoy without spending a penny. Take advantage of these opportunities to enrich your travel experience.
Prioritize active experiences over expensive attractions. Instead of booking a guided tour or paying for a viewing point, opt to walk with your kids and truly immerse yourself in the surroundings. Waterfall hikes, beach days, and self-guided walking tours are often great options that are kid-friendly and cost nothing. National Parks usually have a flat rate per vehicle that grants access for 7 days, offering beautiful natural landscapes and opportunities for outdoor activities at a reasonable cost.
Choose alternative activities for a day out with the kids. Instead of going to a theme park, explore the city on foot, visit a local playground, and have a picnic. You can enjoy the destination, engage with the local environment, and cut costs.
While it's natural to want to bring home souvenirs, consider buying from local artists instead of tourist hotspots. You can often find the same or better quality items at a fraction of the cost. Avoid purchasing souvenirs in overly touristy areas where prices tend to be inflated.
Saving While Spending
Use Cashback Sites
Many supermarket loyalty programs offer rewards or points you can redeem for travel or tickets to attractions. Take advantage of these programs by using your loyalty cards when making purchases. For example, Avios is a program that allows you to earn travel rewards based on the pounds you spend at certain shops.
When shopping online, consider using cashback sites like Lolli. These websites partner with various online retailers and offer cashback incentives for purchases made through their platforms.
Look After the Small Change
If you recently went to Europe and have another upcoming trip, don't change back your euros yet. If you are traveling abroad, go to a reputable local exchange beforehand to change your currency instead of buying currency at the airport or in tourist hotspots. Get a credit card with no foreign exchange fees to avoid getting charged a fee for every purchase. These simple steps can help you have a few dollars here and there, which will all add up.
Use Credit Card Points
Credit card points are one of the easiest ways to earn money for going on a family vacation or any vacation in general. Most credit cards offer a welcome bonus once you meet the minimum spend requirement. If you have an upcoming trip planned, apply for a new credit card with a generous sign-up bonus. You'll easily meet the minimum spend and be able to use the points while on your family trip or for the next one.
Keep in mind that not all credit cards are created equal. Look for credit cards that fit into your lifestyle. For example, I spend the most on dining out, so I got the American Express Gold card, which gives me 4x points on dining and $10 monthly Uber credits. There are also travel credit cards that reward you for spending money on travel if you are a digital nomad or frequent traveler. Some cards also offer perks at select hotels and airlines, as well as travel protections and insurance.
However, this advice only works if you can pay off your total balance in full each billing cycle. If you are bad with finances or don't know how to manage debt, the interest can quickly add up and damage your credit.
The Bottom Line
Finding budget-friendly options requires flexibility in your travel plans and thinking outside the box. Embrace alternatives like house swaps, camping, or self-prepared meals to save money.
Determine what matters most to your family and make it the guiding principle of your vacation planning. Focus on experiences, exploration, and quality time together rather than expensive destinations or attractions. Look for free or cheap activities and attractions. Take advantage of loyalty cards, cashback sites, and other money-saving opportunities to stretch your travel budget further.
Remember that family vacations are about creating lasting memories and bonding with loved ones. Your family values quality time and a loving environment more than extravagant trips. It's the shared experiences that matter most.
We are not financial advisors. The content on this website and our YouTube videos are for educational purposes only and merely cite our own personal opinions. In order to make the best financial decision that suits your own needs, you must conduct your own research and seek the advice of a licensed financial advisor if necessary. Know that all investments involve some form of risk and there is no guarantee that you will be successful in making, saving, or investing money; nor is there any guarantee that you won't experience any loss when investing. Always remember to make smart decisions and do your own research!