If you're interested in getting started in the stock market or crypto market, you've likely heard of eToro and Robinhood. These two popular online discount brokers have disrupted the financial industry by providing simpler, self-directed investing through innovative technology.
While there are similarities between the two, there are also key differences to consider. For example, eToro is known for its transparency and social trading features, while Robinhood offers more tradable securities and lets investors trade crypto for free. In this article, we will dive deeper into eToro and Robinhood to help you decide which platform is the best fit for your needs.
Key Takeaways
eToro offers a broader variety of crypto offerings than Robinhood, as well as social/copy trading features and paper trading accounts. Meanwhile, Robinhood gives investors access to options, stocks, ETFs, cryptos, etc.
Both eToro and Robinhood have commission-free options and direct trading for cryptocurrencies.
We will go over their key similarities and differences, including their minimum deposit requirements, spreads, order types, customer support, and more.
An Intro to eToro vs Robinhood
When it comes to online brokers, eToro and Robinhood are two widely appealing options for investors. While both offer a range of investment options, there are some notable differences to consider. Robinhood originally focused on stocks, ETFs, and options trading before adding crypto trading to its platform, with more than 10 cryptocurrencies now available. Meanwhile, eToro USA initially launched as a crypto exchange but has since expanded to offer stocks, ETFs, and a larger selection of trading tools.
For those looking to trade cryptocurrencies, eToro may be the better choice, with 30+ crypto assets available and social trading features that allow users to follow and mimic the portfolios of experienced traders. On the other hand, Robinhood is a great option for active traders, options traders, and crypto traders who prioritize low fees.
About eToro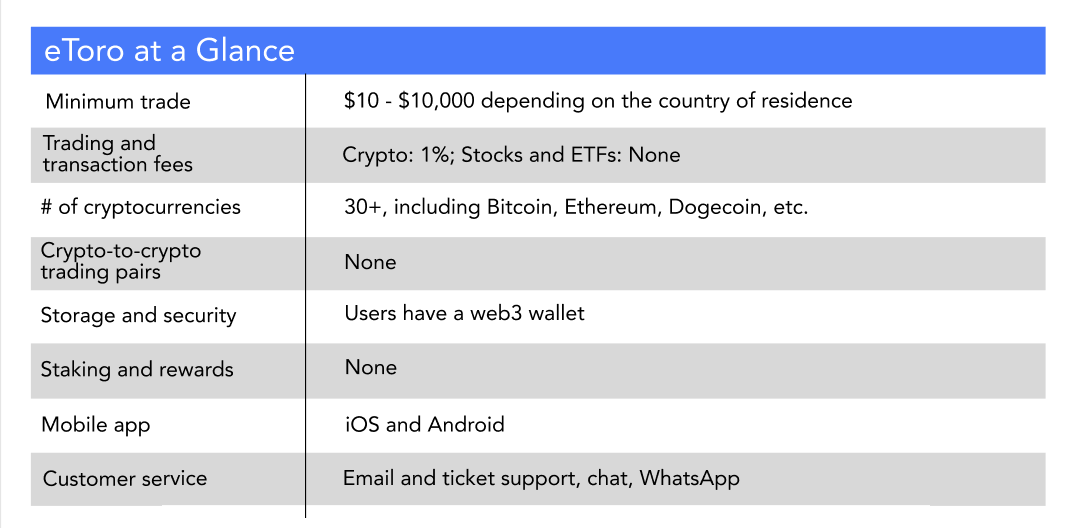 eToro was founded in 2007 by brothers Yoni and Ronen Assia, along with David Ring. The trio set out to create an online trading platform that would be accessible to everyone, regardless of their level of experience. The company's headquarters are located in Tel Aviv, Israel, but it also has registered offices in Cyprus and the United Kingdom.
One of eToro's standout features is its social trading platform, which allows users to follow and mimic other traders' investment strategies. This innovative approach to investing has helped eToro become a leading player in the online brokerage industry.
About Robinhood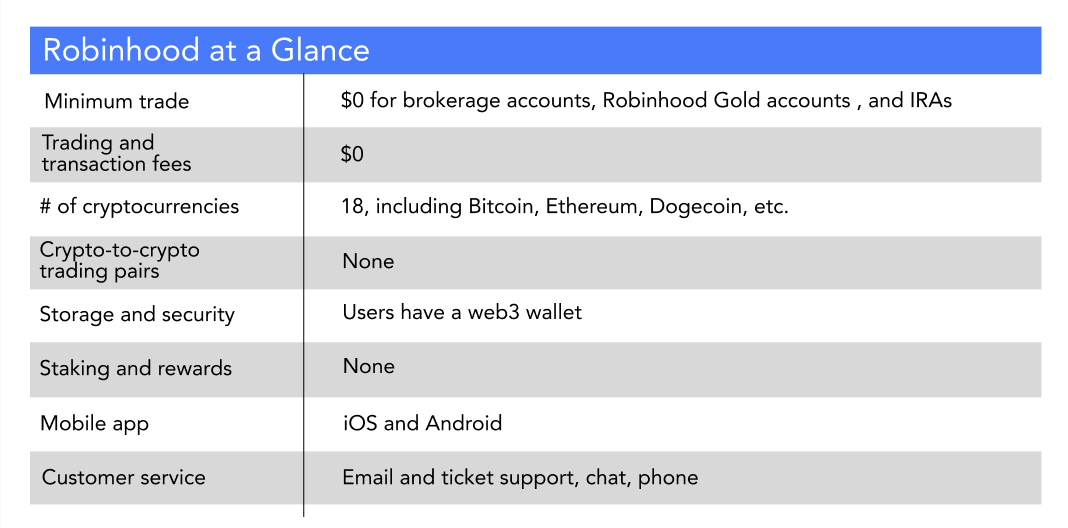 Robinhood was founded in 2013 by Vladimir Tenev and Baiju Bhatt, who were roommates and classmates at Stanford University. The company is headquartered in Menlo Park, California, and has since become one of the most popular online brokerage platforms in the United States.
Robinhood's mission is to democratize investing and make it more accessible to everyone, regardless of their background or financial situation. The platform offers commission-free trading for stocks, options, and cryptocurrencies, which has helped to disrupt the traditional brokerage industry. Despite facing controversy over the years, Robinhood continues to attract millions of users and has become a household name for many investors.
eToro vs Robinhood: A Head-to-Head Comparison
Account Types
eToro has two account types: retail and professional, with the latter having more requirements for qualification. They also have a tiered program called eToro Club that offers premium perks and benefits based on the amount of realized equity. Currently, the levels include:
Silver
Gold
Platinum
Platinum+
Diamond
But, this is not available in some countries due to regulations and platform language limitations. You should be able to see a link to the Club dashboard if your account has access.
Meanwhile, Robinhood has three account types: Instant, Gold, and Cash, with Instant being the default account. Robinhood Instant is a margin account with a maximum instant deposit of $1,000. Robinhood Gold has similar features but offers more buying power and margin investing with a monthly membership fee of $5. Lastly, Robinhood Cash is the downgraded version of the other two, with limited trading options and access to instant deposits.
Registration
Both eToro and Robinhood have simple and user-friendly registration processes. You can easily register for an account either on their website or by installing their apps. With eToro, you need to provide a username, password, and email address to sign up, while Robinhood requires a first and last name, email address, and password.
It is worth noting that eToro accepts users from various countries, except for some restricted zones such as Afghanistan, China, and Canada. Meanwhile, Robinhood only accepts U.S. residents. Additionally, both brokers comply with financial regulatory requirements and will request additional personal information and proof of identity during the account verification process.
Minimum Deposit
For eToro, the minimum deposit ranges from $10 to $10,000, depending on your country of residence. For example, the minimum deposit for U.S. citizens is $10, while it's $50 in countries including Australia, Finland, Denmark, Singapore, and more. If you're in the Cayman Islands, French Polynesia, Gibraltar, Isle Of Man, Jersey Island, Kuwait, New Zealand, or Reunion Island, the minimum deposit is $1,000. In Israel, it is $10,000.
Robinhood has no minimum deposit requirement, so you can start with small investments and add more funds later. However, if you sign up for Robinhood Gold, a margin account, you must maintain a minimum deposit of $2,000.
If you want to deposit funds into your eToro account, you'll have several options to pick from. You can use eToro money, credit or debit cards, PayPal, Neteller, Skrill, Rapid Transfer, iDEAL, Klarna/Sofort Banking, bank transfer, Online Banking – Trustly (EU region), POLi, or Przelewy 24. Keep in mind that some of these payment methods are only available in certain countries.
With Robinhood, your only options are bank transfers and debit cards. Although a bank transfer is a fairly common payment method, the risk is that if your bank has restrictions, you may have trouble depositing funds into your account.
Usability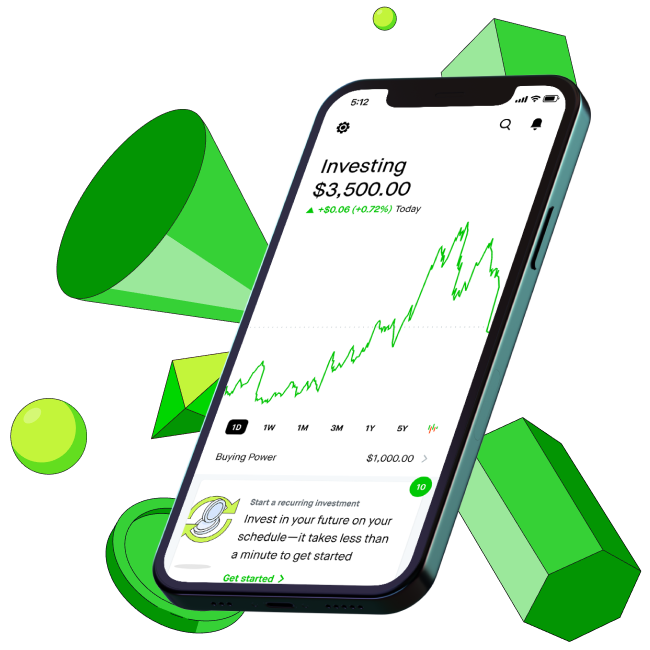 Both Robinhood and eToro offer user-friendly platforms with streamlined designs. Robinhood's mobile and web platforms have similar layouts, with easy-to-use charts and tools for customization. Investors can access real-time streaming stock quotes through a partnership with NASDAQ. Robinhood has also improved its web platform lately, taking advantage of more space for better charting.
On the other hand, eToro offers customizable advanced charts, drawing tools, and technical studies to help investors make informed decisions. Its Smart Portfolios tool provides an automated investing option based on predetermined strategies, while CopyTrader allows you to replicate the trades of more experienced traders. Overall, eToro's platform is considered more robust and feature-rich than Robinhood's, although both platforms are easy to use and accessible to investors of any experience level.
Trade Experience
In general, eToro and Robinhood have 2 platform offerings: the desktop version and the mobile app. Both are straightforward, easy to use, and have an intuitive end-user experience.
However, eToro's mobile app provides users with more advanced features, such as customizable charts, technical studies, and One-Click Trading. Additionally, eToro offers a more robust desktop platform with sophisticated research and trading tools and access to international exchanges. On the other hand, Robinhood's desktop platform is more basic, with fewer features and tools.
eToro provides more advanced features for those who are more active traders or want to access international markets. On the other hand, Robinhood is better suited for new and passive investors who want a more intuitive, simple experience.
Range of Offerings
In terms of the range of offerings, both eToro and Robinhood have limited offerings compared to other brokerages. Neither allows short selling, but you can open a margin account with Robinhood.
eToro offers over 3,000 instruments, including stocks, commodities, currencies (forex), indices, cryptocurrencies, and exchange-traded funds (ETFs). Robinhood has over 5,000 assets comprising various stocks, options, commodities, ETFs, indices, forex, and cryptocurrencies. Both platforms also offer a Web3 wallet, a self-custody wallet used to manage your crypto assets. Additionally, eToro offers a demo account with a virtual balance of $100,000 for investors to practice paper trading before committing to investing.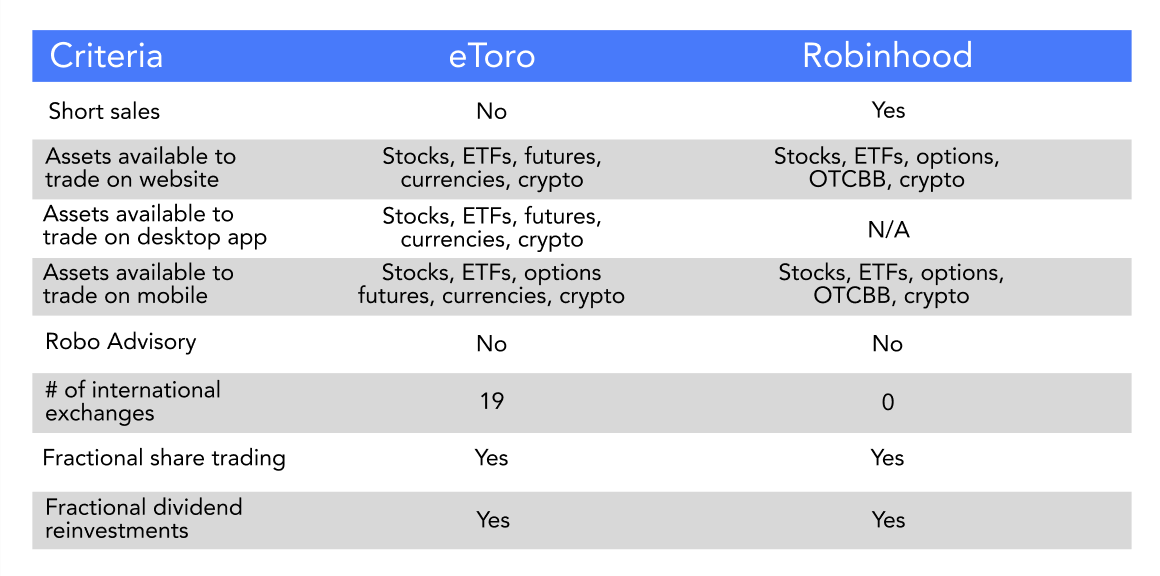 Order Types
Robinhood offers more order types than eToro, but the specific order types available depend on the asset class. Robinhood offers limit, market, stop, and stop limit orders for cryptocurrencies. For options, they offer limit and stop-limit orders. For stocks, Robinhood offers market, limit, stop, stop-limit, and trailing stop orders, with some stocks eligible for GFD or GTC orders. On the other hand, eToro offers basic order types such as market and rate orders, along with One-Click Trading with preset factors like leverage, take profit, and stop loss.
Overall, Robinhood offers a wider range of order types compared to eToro, but the importance of this may depend on your trading strategy and preferences. It's worth noting that both brokers offer the essential order types needed for most trading strategies.
Trading Technology
Robinhood and eToro have heavily invested in new and improved trading technology to enhance the user experience. Robinhood was one of the first brokerages to offer a Web3 wallet platform for storing crypto. eToro piloted innovative features such as CopyTrade and Smart Portfolios. Both brokers offer dividend reinvestment plans (DRIPs) and fractional share trading.
In terms of order execution quality, Robinhood publicly discloses its order execution quality statistics, which were on the high end for all brokers analyzed. Both brokers receive payment for order flow (PFOF), and eToro has an agreement with Apex Clearing to handle the order routing and disclose PFOF.
Spreads
Although Robinhood offers fixed spreads, they don't disclose the actual spread rates. This lack of transparency may be a concern for some traders. On the other hand, eToro has variable spreads and discloses the minimum spreads for each asset class on its platform, which can provide more transparency for traders. Ultimately, the choice between fixed or variable spreads will depend on the trader's preference and trading strategy.
Costs
While Robinhood and eToro offer commission-free trading, other costs to consider include regulatory fees, exchange fees, and spread costs. These costs can vary based on the asset being traded and the specific exchange used. You should carefully review the fee schedules and understand all potential fees before trading so you know what you are getting yourself into.
Withdrawals
Both brokers have processes in place to ensure the security and accuracy of withdrawals. However, eToro has a faster processing time, with a 1 business day processing time compared to Robinhood's 2 trading days. Moreover, Robinhood's withdrawal process may take longer if the funds need to get settled first or if you are withdrawing your funds to a different bank account.
Research and Education
Both eToro and Robinhood provide research and educational resources for customers, but their offerings are more limited in scope compared to other brokerages. In direct comparison with Robinhood, eToro offers more research resources, with its proprietary and third-party research information, plus the screening and watchlist features. Robinhood charges a fee for third-party research and does not offer screening or watchlist features.
eToro has a free online investing education platform called eToro Academy. It provides educational information on various financial topics and additional insights into their trading tools.
In comparison, Robinhood offers its customers a library of investing education called Robinhood Learn. It covers the basics of investing, various investing terms, financial literacy, taxes, entrepreneurship, and more. The content is in the form of articles, videos, and in-app course modules. Additionally, Robinhood sends a weekly 3-minute read newsletter called Robinhood Snacks to subscribers.
Customer Service
Robinhood has gotten heavily criticized in the past few years for its poor customer service, which became especially critical during periods of operational issues on its platform. Since then, Robinhood has tried to reconcile its mistakes with the launch of 24/7 chat, email, and phone support. Meanwhile, eToro also offers a live chat option and a Help Center with a diverse library of information. Visitors can also open a customer service request ticket on the website.
Security
Robinhood and eToro both offer basic security features such as two-factor authentication, encryption, and biometric logins. Customers' assets in both platforms are also protected by the Securities Investor Protection Corporation (SIPC) for up to $500,000.
However, Robinhood has faced some challenges over the years in terms of transparency and security breaches. In March 2020, Robinhood's trading platforms experienced an outage that halted trading and withdrawals for many customers. (For full transparency, this was the main reason why I stopped using Robinhood.) Moreover, on November 3, 2021, Robinhood experienced a data security breach, which could have compromised the personal information of millions of its users. These recurring issues may raise questions about the reliability and safety of Robinhood's platform.
On the other hand, eToro emphasizes its commitment to security, stating that its systems are monitored and protected 24/7 by a professional security operations center (SOC). To date, eToro has not experienced any significant outages or data security breaches.
It's important to note that while both platforms may offer basic security features, trading cryptocurrencies, in particular, can be inherently risky and volatile. On any given day, crypto prices can swing widely. If you're not careful, that could mean you may end up losing money rapidly.
Additionally, cryptocurrencies are not FDIC-insured. That means if something happens to your crypto, you may not be able to recover your assets. This scenario is an issue I've been dealing with the past year with lending platform Celsius halting withdrawals and filing for bankruptcy.
Overall, while both Robinhood and eToro offer basic security features, eToro seems to have a better track record in terms of reliability and safety.
eToro vs Robinhood: Which One is Right For You?
Is eToro Right For You?
Pros
30+ cryptocurrencies available, including Bitcoin (BTC), Ethereum (ETH), Cardano (ADA), Dogecoin (DOGE), and more
Full and fractional shares of stocks and ETFs offered
Smart Portfolios that allow you to invest in diversified pre-built investment portfolios
eToro Academy, where you can learn how to invest
Social investing, where you can see what other investors are buying and selling
Demo account available with up to $100,000 in virtual money
Cons
Limited customer service
Geographic restrictions for residents in New York, Hawaii, Minnesota, and Nevada
No retirement accounts
The minimum deposit ranges depending on your country of residence
---
Is Robinhood Right For You?
Pros
No fees for trading stocks, ETFs, options, and cryptocurrencies
Full and fractional shares of stocks and ETFs offered
Robinhood Retirement with a 1% IRA match
Low minimum deposit
Access to Cash Management, a spending account with a 1.5% annual percentage yield (APY) (as of April 7, 2023)
Cons
Limited investment types; no mutual funds, bonds, futures, etc.
No advanced trading platform
Lack of investment research tools
Before You Start Investing…
Investing in the financial markets comes with inherent risks, whether you are buying stocks, crypto, real estate, bonds, etc. The higher the profit potential, the higher the risks. Before investing, make sure you understand your financial goals and risk tolerance.
For example, if you are saving for a home downpayment or retirement, you may want to invest in less volatile assets such as index funds or bonds. If you are a beginner, you may want to start out with small amounts of money or try your hand at paper trading first.
Make sure you conduct research before making any investment decisions and understand what you are investing in. The last thing you want is to lose all your money over trades you do not understand.
The Bottom Line
In summary, eToro and Robinhood are licensed online trading platforms that offer various investment options on multiple devices. eToro is recommended for crypto-focused and beginner investors, offering more asset types, automated investing, and social trading features. On the other hand, Robinhood is better suited for active traders and options traders who value low fees.
eToro outshines Robinhood in terms of banking options and reputation, while Robinhood has the advantage of commission-free options and direct trading for cryptocurrencies. Ultimately, the choice between eToro and Robinhood depends on your preferences and investment goals.
We are not financial advisors. The content on this website and our YouTube videos are for educational purposes only and merely cite our own personal opinions. In order to make the best financial decision that suits your own needs, you must conduct your own research and seek the advice of a licensed financial advisor if necessary. Know that all investments involve some form of risk and there is no guarantee that you will be successful in making, saving, or investing money; nor is there any guarantee that you won't experience any loss when investing. Always remember to make smart decisions and do your own research!