Planning a birthday celebration can be a lot of fun. But it can also be stressful and expensive. That's where the dollar store comes in!
We'll share 12 creative and affordable Dollar Tree decoration ideas to help you throw an amazing birthday party without breaking the bank. Whether you're on a tight budget or just looking to save money, these ideas will help you create a fun and memorable celebration. Let's get started!
Key Takeaways
Hosting an elaborate birthday party can be expensive, but there are steps you can take to save money by shopping at Dollar Tree or your local dollar store.
We'll go over 12 birthday party ideas you can use to plan a cheap but exciting party.
12 Dollar Tree Birthday Party Ideas to Party on a Budget
Dollar Tree offers a wide range of affordable items you can use to your advantage when planning your next birthday party. While shopping at Dollar Tree, keep an eye out for these sections where you can find budget-friendly party supplies:
Party supplies: Dollar Tree has a wide selection of party supplies, perfect for working on party crafts. In particular, items you may find useful include table cloths, paper plates, bowls, utensils, crepe paper, serving dishes, trinkets and toys, party favors, latex and helium balloons, birthday bags, candles, banners, and more.
Seasonal items: In this section, you'll find craft supplies, decorations, and other miscellaneous items related to upcoming holidays and seasons. If you want to host a holiday-themed birthday party, you can check out this aisle for fun party decorations.
Craft aisle: Another option is the craft section of Dollar Tree. Here, you'll find various craft supplies for making party decorations, including craft sticks, craft chalk, DIY paint boards, adhesive spray, wooden crafts, foam blocks, and more.
Toy aisle: If you are looking for simple and affordable party favors for guests, check out the toy aisle. You'll find plenty of trinkets and toys, including activity books, figurines, glow sticks, and more.
1. Foam Board Greeting Sign
While Dollar Store has pre-made banners and signs, you can also create your own to give your banner more personality and tailor it to match your overall birthday party theme. Materials you may need include a foam board, ruler, paint or markers, craft knife, stencils, glitter, and glue.
Before making your foam board greeting sign, decide on its size and shape and measure it out. Then use a craft knife to cut out the shape of the sign. If you want to add lettering or other designs, you can use stencils or freehand draw it before using paint or markers to color the design.
For an extra pop, add glitter or stickers using double-sided tape or glue. Once your sign is ready, you can hang it up, prop it on a table or shelf, or use mounting putty to attach it to a surface without causing damage.
2. Game On!
If your idea of the perfect weekend is cheering on your favorite football team, make a game-day touchdown-themed birthday party. You'll find everything you need at Dollar Tree, from the banner to the tablecloths, mason jars, centerpieces, balloons, and even snacks and drinks. If you are not a football fan, change the theme to another sport, such as basketball, hockey, or soccer.
3. Ice Cream Social
If you're looking for a sweet birthday party, host an ice cream social. Some supplies you'll need include balloons, party hats, plates, napkins, bowls, tissue pom pop garlands, colored paper, tape, ice cream, ice cream scoopers, toppings, ice cream cones, condiments, and icing.
You can set up the table by covering it with a tablecloth and creating an ice cream cone banner using party hats and pom poms. To decorate the wall, create DIY sprinkles using different colored paper. Then, blow up some latex or helium balloons to liven the mood. Finally, fill your table with your favorite toppings, condiments, and ice cream.
4. Party Backdrop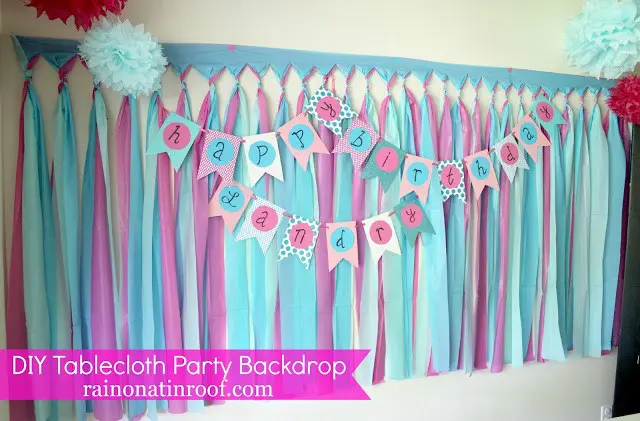 This colorful party backdrop is easy to make and super affordable. To make the backdrop, start by hanging the tablecloths on a wall or any surface you want to decorate. You can use thumbtacks to attach them to the wall or adhesive strips to avoid damaging the surface.
Next, use a pair of scissors to cut the tablecloths into strips of varying lengths, leaving some longer and others shorter. That will give your backdrop a textured and layered effect. You can also cut some strips into fringe to add more dimension and movement to the backdrop.
5. Glitter Balloons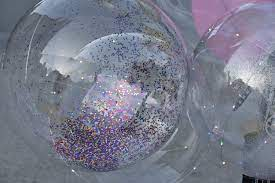 Elevate your birthday party decorations with a unique and fun twist on traditional party balloons. You can create an eye-catching and playful display by handing balloons upside down and drizzling them with glitter.
All you need are balloons, a mod podge, glitter, and a paintbrush. To start, use the paintbrush to apply mod podge to one half of the balloon. Be sure to cover the surface evenly and avoid applying too much glue, which can cause the balloon to deflate.
Next, roll the glued half of the balloon on a plate full of glitter. Make sure the glitter adheres to the glue. You can also sprinkle the glitter onto the balloon with your hands, but be sure to distribute it evenly. For added sparkle, use a mix of glitter colors or add diamond-like glitters to the balloons for a dazzling effect.
6. Cake Stand
If you are looking for an adorable and inexpensive centerpiece, consider creating a cupcake or cake stand. You'll need a few supplies, namely different-sized plastic plates and varied lengths of candleholders. You can purchase plates in different sizes and colors to suit your party theme.
To assemble the centerpiece, attach a candlestick to a plate using a strong adhesive such as E6000 or a hot glue gun. That creates a sturdy base to hold cupcakes, cookies, or any other treats you want to display. To create a multi-tiered stand, place one candlestick-and-plate combo on top of another.
7. Capture the Moments
A photo booth is a fun addition to any party or special event. The first step is to choose a space for your photo booth, whether it's your yard, home, or event hall. Once you have found the perfect spot, hang a sheet or backdrop in a corner or against a wall to create a private space. That provides a clean and attractive background for your photos and ensures that your subjects will stand out in the pictures.
Add themed decorations, such as signs, banners, flags, or posters. Next, create a basket or small table next to the photo booth area and fill it with props that fit the theme of your event. These could include anything from big hats and giant sunglasses to tiaras and fake mustaches. The more props you have, the more fun and creative your guests can get with their photos.
8. Wall of Flowers
If you're going for a floral or nature-themed birthday party, consider making a floral garland. You'll need string, faux floral bushes, needles, and glue from the dollar store.
To make the garland, pull the flowers off the bushes, arrange them by type and color, and then thread them onto a string using a needle or toothpick. Make sure to leave some space between each flower and use dabs of glue to hold the flowers in place on the string. The flowers can then be tied to the tree branch or displayed indoors on a wall or window.
9. Carnival Time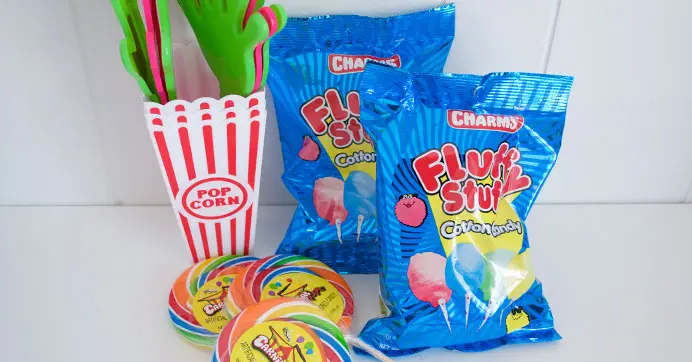 If you can't go to the carnival, create a carnival-themed party instead with a few inexpensive dollar store items and some creativity. Make the entranceway to the party look like a carnival tent and set up carnival games such as bottle toss, balloon darts, and bottle ring toss.
Give carnival-themed party favors like popcorn, cotton candy, lollipops, etc. You can save money by not having to go to an actual carnival while still having fun.
10. When Life Gives You Lemons…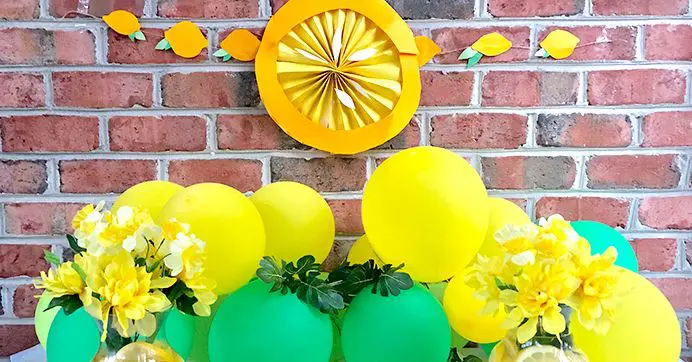 If your birthday happens to be in the summer or you want to host an outdoor birthday party, consider throwing a lemon-themed party. It is a super easy and cheap way to have a great time without a lot of planning or money needed. You can make fun decorations using yellow and green balloons, faux flowers, table setting, tissue paper, mason jars, etc.
11. Making Magic Happen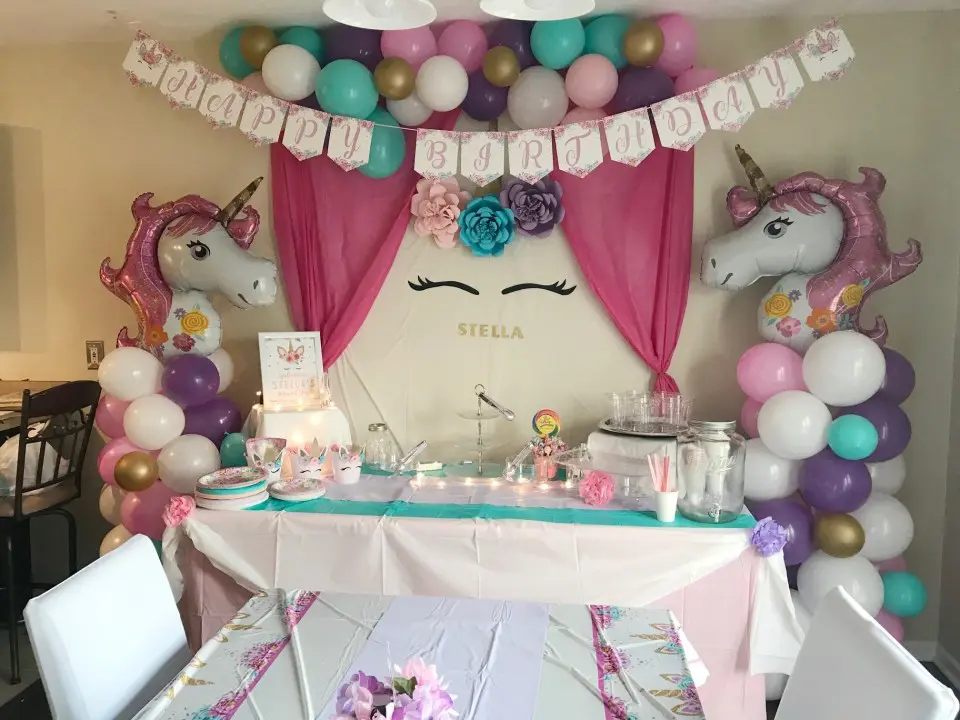 Another fun idea is a unicorn-themed birthday party. You can buy super adorable unicorn party supplies and decorations from your local dollar store, including balloons, pudding cups to turn into unicorns, mason jars, tablecloths, tissue paper, banners, and more.
12. Mermaid Tail Balloon Waterfall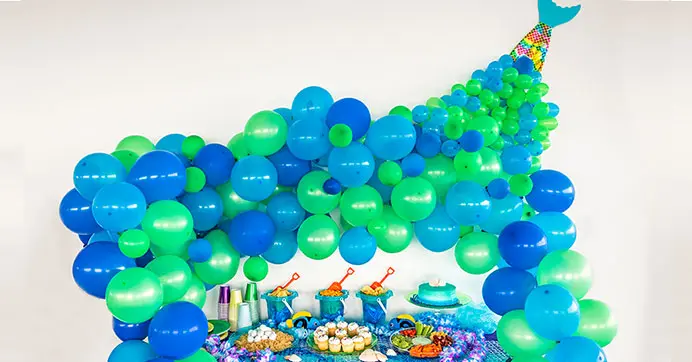 For mermaid enthusiasts, consider creating a mermaid tail balloon waterfall for an ocean-inspired or mermaid-themed party. This decor is easy to make, and all you need are some Dollar tree supplies, such as balloons, jute twine rolls, a balloon pump, scissors, and strings.
To create the mermaid tail balloon waterfall, cut 5 to 7 20-ft. strips of twine and tie them together at the top. Inflate small blue and green water balloons and attach them to the top of each twine string with bobby pins. Then, fill in the strings with more water balloons and attach the larger blue and green latex balloons to the twine with bobby pins. Inflate your balloons to various sizes to create a dramatic effect.
Next, attach the top of the strings high up on the wall on one side of the table using a removable adhesive strip. Then, attach and drape the balloon strings to the wall above your table, cascading the balloons down the wall as you move to the opposite side of the table. You can add a mermaid tail dress-up accessory or use construction paper, poster board, or paper plates to create the tail fin at the end of the balloon tail.
The Bottom Line
And that's a wrap on 12 dollar store birthday party ideas for kids and adults alike. You can have a great time without spending tons of money on party supplies and party favors.
We are not financial advisors. The content on this website and our YouTube videos are for educational purposes only and merely cite our own personal opinions. In order to make the best financial decision that suits your own needs, you must conduct your own research and seek the advice of a licensed financial advisor if necessary. Know that all investments involve some form of risk and there is no guarantee that you will be successful in making, saving, or investing money; nor is there any guarantee that you won't experience any loss when investing. Always remember to make smart decisions and do your own research!