Capital One is a financial institution founded in 1994 and headquartered in McLean, Virginia. The company is one of the largest banks in the United States and offers a variety of banking products and services, including checking and savings accounts, CDs, credit cards, auto loans, mortgages, business banking products, and more.
Capital One has more than 9 million customers and operates 300+ branch locations across the country. In addition to its competitive rates and no-fee products, Capital One also ranks highly for customer satisfaction. If you are considering using Capital One's personal banking solutions, use this review to understand the unique aspects and benefits of Capital One and its checking and savings offerings.
Capital One at a Glance
As a primarily online bank, Capital One offers top-notch perks, including no checking or savings fees, no overdraft fees, competitive rates on its product offerings, stellar customer support, and access to physical branches. With its wide selection of products and exceptional customer support, the company promises full-service banking for its customers.
Capital One is ideal for consumers who want to manage all their bank accounts in one place. While the company does not offer the highest available rates on savings products, you can still earn decent interest on your money. Additionally, you can easily access your accounts by going online, contacting customer support, or visiting one of their brick-and-mortar locations.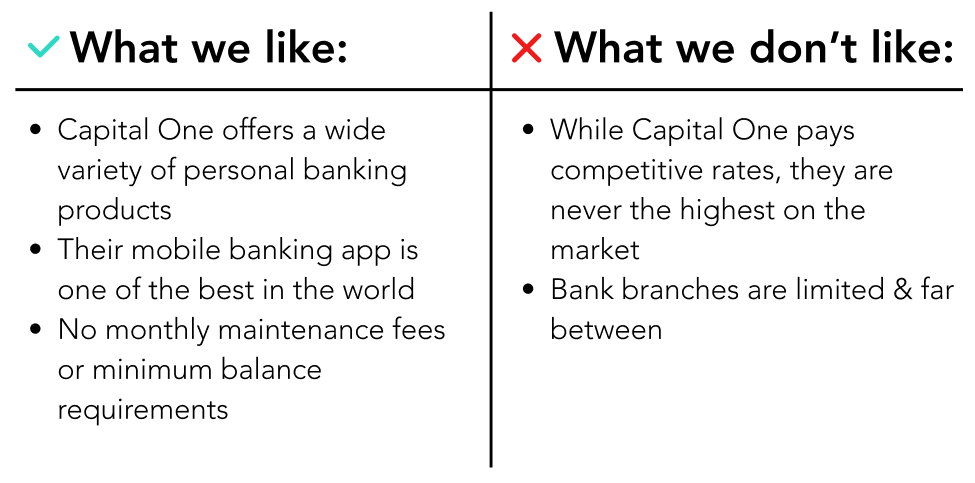 Account Basics
Savings Account Details
Currently, Capital One offers 2 types of personal savings accounts — the Capital One 360 Performance Savings Account and Kids Savings Account.
360 Performance Savings Accounts
The Capital One 360 Performance Savings Account is a high-yield savings account offering a 4.30% annual percentage yield (APY) on all balances with no minimum deposit required or monthly maintenance fees (as of August 2023). While this yield is not the highest available, it is higher than the yield most online banks offer, and you can earn interest regardless of your account balance.
Given its solid rate and no fees, the Capital One 360 Performance Savings is suitable for most savers. If you are looking for a place to hold your emergency fund or meet other savings goals, such as a vacation or home renovations, this account is a great place to get started. Customers can also set up savings goals and automatic savings transfers (between Capital One 360 accounts) to maximize their savings efforts and put their finances on autopilot.
With 360 Performance Savings, you can easily transfer money between linked Capital One accounts (such as the 360 Savings and 360 Checking) or external bank accounts. If you have multiple financial goals, you can create separate Performance Savings Accounts for each one. Additionally, you can deposit mobile checks at any time by simply taking a picture of the check using your phone.
If you have concerns about your funds' security, you can rest assured that your money is fully insured by the Federal Deposit Insurance Corporation (FDIC) to its allowable limits. That means if Capital One fails for any reason and runs out of funds, the FDIC will reimburse you up to $250,000 per account.
Kids Savings Accounts
Capital One's Kids Savings Account is a solid option for parents who want to set up a savings account for their children. With no monthly fees or minimum balance requirements and a 0.30% APY, the Kids Savings Account is perfect for kids of all ages.
As a custodial account, the parent would open the account in their name and the name of their child under the age of 18. They would then link their Kids Savings account to their checking account to make deposits and withdrawals from their account. While parents and their children can both access the accounts, only parents can make transfers and withdrawals from linked accounts. Once a child turns 18, the accounts are automatically converted into a 360 Savings Account.
Capital One also gives kids a safe way to learn about savings and establish healthy financial habits early by offering features such as automatic savings plans and financial goal setting. Similar to 360 Performance Savings, kids and parents can set up multiple accounts for different financial goals and manage their money on the go at any time using the mobile app.
CD Account Features
A certificate of deposit (CD) is another type of savings account but with less flexibility than a regular savings account. CD accounts usually offer a higher interest rate than your typical savings account but often have a fixed term, such as 6 months or 1 year. That means once you deposit your money into the account, you cannot take it out until its maturity date or risk getting penalized. If you have money you do not need access to immediately, CDs are a great way to grow your savings long-term.
With CDs, you choose the investment period and initial deposit. Usually, the longer the CD term, the higher the interest rate. Capital One 360 CDs have no minimum balance and 9 terms to choose from, ranging from 6 months to 5 years. Depending on the term of your CD, the APY varies from 3.90% to 4.85%. While the rates are not the highest in the market, they are fairly competitive among larger banks and give you guaranteed returns over time. If you fund your account within 10 days, you can lock in the rates until your account reaches maturity. As a bonus, you can also add beneficiaries to your CDs online.
Interest gets accrued daily and compounds monthly. As an account holder, you can decide how you would like to receive your interest earned — monthly, annually, or at maturation. They can also get transferred to other Capital One accounts or external linked accounts.
If you withdraw funds early, there is a penalty depending on the term length. For CDs with terms of 1 year or less, the early withdrawal penalty is 3 months of interest. For CDs with terms longer than 1 year, the penalty is 6 months of interest. 360 CDs currently do not have partial withdrawals available.
Below are the CD terms and rates available as of August 2023.
Checking
Capital One offers 2 checking account options — the Capital One 360 Checking Account and MONEY Teen Checking Account.
Capital One 360 Checking Accounts
The Capital One 360 Checking Account is a competitive checking account that offers tiered interest rates. Currently all tiers earn a 0.10% APY and the balance compounds monthly. The account comes with a 360 Checking MasterCard debit card, and your first checkbook is free. 360 Checking accounts also have no monthly maintenance fees and no minimum deposit required or ongoing balance requirements.
You can set up online bill pay, manage your money online, and make mobile check deposits at any time. With its early paycheck feature, you may be able to receive your paychecks up to 2 days in advance if you use direct deposit. As a customer, you also get access to over 70,000 fee-free ATMs nationwide, including ATMs in the Allpoint and MoneyPass networks and Capital One's physical branches.
As of 2022, Capital One stopped charging fees for overdrafts or nonsufficient funds (NSF). Instead, you have several options to choose from for dealing with overdrafts. With auto-decline, the bank will automatically decline transactions that would cause your account to get overdrawn. With free savings transfers, you can set up free transfers from a linked account to cover any overdrawing transactions. Next-day grace allows you to have overdrafts covered by the bank for free. But, you will need to deposit money into your account regularly and deposit funds immediately to cover the overdraft.
Capital One MONEY Teen Checking Accounts
The Capital One MONEY account is a great way for parents to teach their children about spending and budgeting early on. While the account is geared towards teenagers, children ages 8 to 18 can sign up. The Capital One MONEY account is a joint account that gives parents and teens access to the account online and through the mobile app.
Similar to the 360 Checking, it is an interest-bearing account with a 0.10% APY and comes with a free debit card for teens. There are also no monthly maintenance fees, no minimum deposit required, and no balance requirements. Teens can access their money at any of the 70,000+ fee-free ATMs across the country and make mobile deposits for checks at any time.
While parents can track account activity via text and email, they will not receive a debit card of their own. However, parents will have access to parental controls to stay on top of their children's spending and monitor their financial health. Once teens turn 18, they will have the option to open a 360 Checking account and transfer the funds over from their MONEY account.
Personal Loans
Capital One currently does not offer personal loan options.
Accessing Capital One
While Capital one has fewer network branches than some of its competitors, they do have over 300 branch locations and operate Capital One Cafés in select states. Capital One Cafés are hybrid offices where you can grab a cup of Peet's coffee and do your banking simultaneously. You can also hang out in the café afterward and socialize with friends. Back in college, I visited their cafés on a regular basis to get coffee and have a quiet place to do work. 
As mentioned earlier, you will get access to a free nationwide ATM network of more than 70,000 ATMs. Mobile app users can also deposit cash at select CVS, Target, and Walgreen locations.
In addition to its physical locations, Capital One also offers a cutting-edge web interface and mobile experience. Fun fact — Capital One was the first bank in the U.S. to allow customers to use voice commands via Amazon's Alexa to search for their banking information. Their mobile app is also highly rated. The app delivers an all-in-one mobile banking solution that allows customers to make mobile check deposits, customize alerts and notifications, track expenses, access account statements, send and receive money using Zelle, and more.
If you want to stay connected while on the go, you can use Capital One's assistant, Eno. Eno provides alerts and account insights for account holders, flags suspicious activity, and spins up virtual card numbers to enable a more secure online shopping experience. Customer service reps are also available every day from 8 AM to 11 PM EST for additional support.
How Capital One Bank Stacks Up
Who is Capital One bank Best For?
Capital One is best for customers looking for a full-service, online banking experience. It is a particularly good fit if you want to:
Earn competitive APYs for your checking and savings accounts
Avoid paying a monthly maintenance fee or worrying about minimum balance requirements or deposits
Do most of your banking online but still have branch access as an option
Have overdraft protection
Access no-fee ATMs nationwide
Get stellar customer service
Pros
Competitive APYs on all accounts
No minimum deposit requirements on checking and savings accounts
No minimum balance requirements
24/7 online access and mobile banking
No overdraft fees
Mobile deposit for checks
Large, nationwide ATM network
Branch access and Capital One Cafés
Cons
Limited branch locations
CD and savings are never the highest in the market
The Bottom Line
Capital One is a major, reputable player in the banking industry with millions of customers, and for good reason. Capital One is a banking institution that offers its customers a variety of services, including checking and savings accounts, credit cards, loans, and investment products. Additionally, they offer children's accounts and individual retirement accounts, making their services a top choice for families.
For people who are looking for an all-in-one personal banking solution, Capital One is a great option to consider. Although Capital One does not offer the highest rates in the market for its products, its rates are consistently high compared to other large banks. And, their checking accounts earn interest, which is uncommon for most checking accounts.
While Capital One has physical branches and cafés in some states, access is available primarily through its online account or mobile app at this time. Tech-savvy customers may prefer this setup, but if you like having the personal touch of a local branch, you may want to turn to other banking institutions instead. If you do live or work near a Capital One Café, the Capital One Cafés offer a unique customer experience that allows you to get Peet's coffee while doing your banking at the same time.
Before signing up for personal banking accounts at Capital One, do your research to identify your financial goals and which banks best match those goals. Weigh the pros and cons carefully to see if Capital One is a good fit for your financial needs. Different banks and products have various benefits that may be better suited for your unique financial situation than others.
We are not financial advisors. The content on this website and our YouTube videos are for educational purposes only and merely cite our own personal opinions. In order to make the best financial decision that suits your own needs, you must conduct your own research and seek the advice of a licensed financial advisor if necessary. Know that all investments involve some form of risk and there is no guarantee that you will be successful in making, saving, or investing money; nor is there any guarantee that you won't experience any loss when investing. Always remember to make smart decisions and do your own research!