If there is one thing students won't be able to escape this year, it's college tuition.
As colleges and universities continue hiking tuition rates, more and more students are loading up on debt. It may come as a surprise, but parents and students can, and do, use credit cards to pay tuition. In fact, a recent survey from CreditCards.com found that roughly 85% of public and private colleges in the U.S. accept credit cards as a form of tuition payment.
Using a credit card to pay for tuition may seem appealing, especially if you want flexibility, bonuses, and rewards points. But, do the benefits outweigh the costs? Here's our guide on the pros and cons of paying your tuition with credit cards.
Key Takeaways
You can pay college tuition with a credit card to earn rewards and bonuses, but the costs may outweigh the benefits.
When you use a credit card to pay for your college tuition, you may get charged convenience fees and put your credit at risk if you fail to pay off your balances on time.
Alternatives you can consider before paying tuition with credit include student loans, tuition payment plans, financial aid, grants, scholarships, and work-study.
Can You Charge Tuition on a Credit Card?
Yes. According to a 2019 report by the National Association of College and University Business Officers, roughly 21% of tuition dollars got paid using credit cards in 2018. However, note that not all colleges and universities allow students and parents to use credit cards to pay for tuition.
Risks of Charging Tuition on a Credit Card
Using credit cards to pay your tuition can be attractive, but there are risks involved.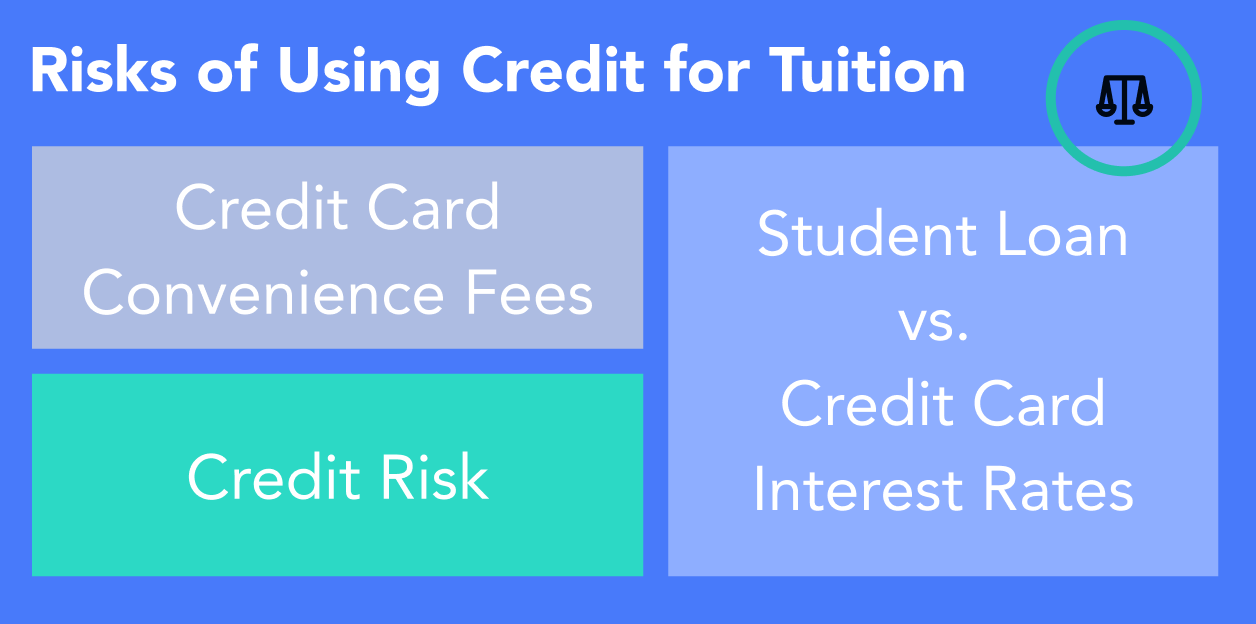 Credit Card Convenience Fees
One of the main reasons why many financial experts advise against using credit cards to pay for tuition is the credit card processing fees. Unlike paying tuition with a checking account or student loans, most colleges charge credit card convenience fees through third-party providers that they partner with.
That is because accepting credit cards as a form of tuition payment costs money, similar to the fees that many retailers pay to accept credit card payments from customers. If a college chooses not to absorb the credit card transaction fees, they get passed on to students. In the same way that some retailers choose to only accept cash as payment or set minimum transaction requirements, colleges want to protect their bottom lines.
Usually, these fees will get calculated as a percentage of the total amount you charge on your card and may range from 2% to 3%. For example, if you charge $20,000 of tuition on your card, that can result in a hefty $400 to $600 fee! Nearly half of schools will charge a convenience fee for using cards, and many schools will set a minimum fee, though some will charge flat fees per transaction.
Before paying tuition with a credit card, it's crucial to know how much it will cost you and whether your credit card rewards or points will outweigh the costs. Most schools will disclose these fees on their websites, but you may need to dig through their sites to find them or call or email your school's bursar's office.
Credit Risk
Another aspect you need to consider is how much flexibility and leniency you will have. The policies for credit cards tend to be strict, so one late or missed payment can heavily set your credit score back. Additionally, repayment terms are generally inflexible, so if you cannot pay back your debt within one billing cycle, you may end up accruing a lot of interest.
If you do not have enough money to pay off your credit card debt, it's best to leave your credit cards aside. Your credit scores affect many facets of your life, from mortgages to auto loans to employment. So, you do not want to risk putting your credit on the line if you cannot afford to do so.
Student Loan vs. Credit Card Interest Rates
Before putting your card down, make sure to compare the interest rates between traditional student loans and credit cards first. Credit card interest rates tend to be much higher, and some cards can have upwards of 25% to 30% APRs. The longer you carry a balance, the more the interest will compound, which can then snowball out of control.
With student loans, your rates will be much lower. Depending on the loan type, the interest rate on federal student loans ranges from 3.86% to 7.21%, according to the U.S. Department of Education. Between July 1, 2020 and July 1, 2021, the average cost of federal loans ranged from 2.75% to 5.30%. Most credit cards will not even come close to these rates.
Purely on these numbers alone, you should always take out a student loan rather than use a credit card if you intend to carry a balance. Even if you have to pay through a repayment or installment plan, the fees for student loans will probably be less than the convenience fees and interest. Additionally, the federal government offers several options for repaying student loans, such as repayment plans linked to your annual income, interest-only repayment, or even deferments.
When Using a Credit Card Makes Sense
On the flip side, there are scenarios in which using a credit card to pay tuition makes sense. Benefits such as reward points, welcome bonuses, cashback, and introductory interest-free repayment periods can make it worthwhile to use a card if you can repay the balances.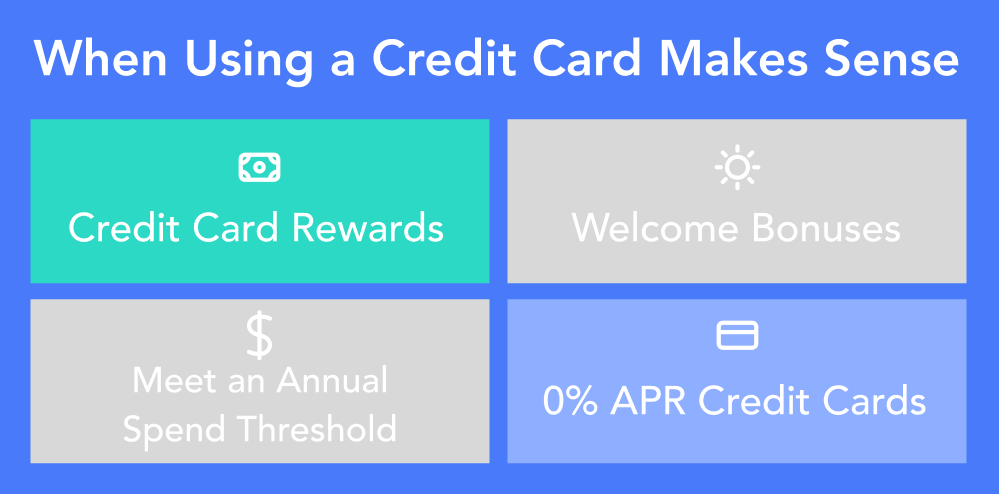 Credit Card Rewards
Many people use their credit cards to earn rewards, such as travel credits or cashback. You may be thinking, if you have to pay tens of thousands of dollars in tuition anyways, why not use your card to earn big rewards? Getting even 1 or 2 points per dollar spent could end up being a lot.
But, to determine if the rewards outweigh the costs, it all depends on the convenience fee your school charges. It will only make sense to pay tuition with a credit card if you gain more from the rewards than the costs you pay for the convenience fee and if you can pay off your balance quickly.
For example, let's say your credit card earns a 2% cashback on "other" purchases (which is the category tuition will most likely fall under). If you charge $15,000 in tuition payments to the card, you would earn $300 in cash back. If your school charges a 2% convenience fee, it effectively cancels out the reward. On the other hand, if the convenience fee is less than 2%, you would still come out ahead.
Credit Card Welcome Bonuses
Many credit card companies will offer sign-up bonuses to new customers to incentivize them to apply for more credit. To qualify for the sign-up bonus, you typically have to spend and pay off a certain amount of money using your card within a specified timeframe. For example, the Chase Freedom Flex card I have gives a $200 bonus when you spend $500 on the card within three months of opening the account.
Other credit cards may offer bigger welcome bonuses but have higher spend thresholds required for you to earn them. For example, the Chase Sapphire Reserve offers 50,000 points, but cardholders need to make at least $4,000 of purchases within three months of opening an account to get the bonus. For some people, this amount can be significant and not feasible in such a short period. So, it may make sense to pay tuition using the card to qualify for this reward.
If you end up charging $15,000 towards tuition using this card, you would earn 50,000 points from the welcome bonus and an additional 15,000 points from the cashback rewards (one point per dollar for purchases that do not fall in any bonus categories). That adds up to 65,000 points, which could be worth as much as $975, depending on how you use the points. So, even with a 2% convenience fee, you would still come out on top.
Remember that this strategy is only ideal if you already have the money to pay for tuition. You could potentially use the card to pay tuition, pay off the full amount within one billing cycle, collect the rewards, and never have to pay any interest. If you are not confident that you can pay off your balance quickly, you may end up owing interest, which would cut into the rewards you earned.
This strategy is not an all-or-nothing strategy either. You can also make a partial payment to get the welcome bonus instead of charging the full tuition amount on the card.
Meet an Annual Spending Threshold
In addition to welcome bonuses, your credit card issuer may offer extra perks if you meet their annual spending thresholds. For example, if you spend $15,000 in one calendar year on the Hilton Honors American Express Surpass Card, you will earn a free weekend night reward. If you spend $125,000 in one calendar year on any Southwest co-branded credit card or fly 100 qualifying one-way flights, you will earn a Companion Pass. The Companion Pass allows you to pick one person to fly with for free when you redeem your points for a flight.
So, if you have high annual spending thresholds to meet, paying your college tuition with credit may make sense to help you meet the minimum. But, as with the other benefits, make sure you have enough money to pay off the balance quickly to avoid making high-interest payments.
0% APR Credit Cards
If you want to use a credit card to pay for tuition, but need a bit of time to pay off the balance, there is an option available that may make sense. You can open a credit account that offers a 0% introductory APR period, which acts like an interest-free loan temporarily. The promotion period typically expires after 12 to 21 months, so you will need to pay off your debt before that deadline, or you will start accruing interest.
Most student loans carry interest, so if you are deciding between a student loan and a 0% APR credit card, you could end up saving a good amount of money if you choose the card. For example, the Chase Freedom Unlimited card offers a 15 months 0% APR introductory period for new cardholders and balance transfers. In addition, you get 1.5% cashback on all non-bonus spending, so if we use the same $15,000 tuition payment and 2% convenience fee scenario from above, you will still end up pocketing a bit of money.
But, you will only have 15 months to pay off your balance without accruing interest. After the promotional period ends, your interest rates will end up being higher than if you were to take out a student loan.
Alternative Financing Options
Other options are available if you do not want to finance your education with credit cards, including tuition payment plans, financial aid and grants, scholarships, and work-study.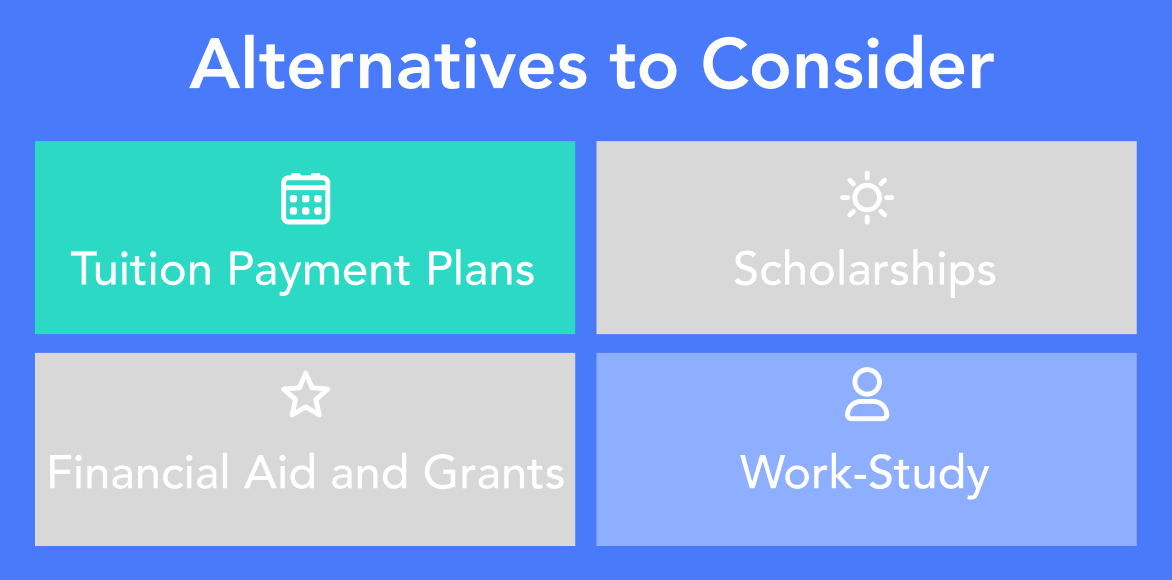 Tuition Payment Plans
If you cannot afford to make large lump-sum payments to cover tuition costs every semester, there are better ways to finance your education. Ask your school if they offer tuition payment plans, which allow you to spread your payments across several months at no cost. While they typically have enrollment fees to sign up for these plans, they will likely be lower than the amount you would pay in credit card interest.
For example, Columbia University has a $45 enrollment fee for an annual payment plan with ten payments and a $25 fee for a semester payout plan with five payments. The University of Denver has a $20 enrollment fee for a quarterly payment plan with two or three payments per quarter. Many other colleges and universities, such as the University of Southern California, Reed College, Stanford, Harvard, and the College of William & Mary, have similar plans for students.
Financial Aid and Grants
Before you take out any loans, apply for financial aid first. Even if you do not think you qualify, it is worth applying to see how much you can get. If you are based in the U.S., you will need to complete the Free Application for Federal Student Aid (FAFSA) every year to see how much financial aid you are eligible for.
If you are a California resident, you may qualify for the Cal Grant, which is a California-specific financial aid program for students attending colleges and universities within California. To apply for the Cal Grant, you will need to use the FASFA or CA Dream Act Application and meet eligibility, financial, and minimum GPA requirements.
If you qualify for the Cal Grant, there are three kinds – A, B, and C – which will get determined based on your responses to the FAFSA or CA Dream Act Application. Some requirements include being a California resident for at least one year, not having a bachelor's or professional degree, and income requirements.
Many colleges and universities offer generous financial aid packages to qualifying students. For example, 2/3rds of the freshmen entering USC in fall 2020 received some form of financial aid. The NYU School of Medicine offers free tuition to all medical students as of 2018. MIT offers free tuition for all families making under $75,000 a year. And the list goes on.
Scholarships
If you do not qualify for financial aid, make sure to apply for scholarships both from your school and externally. Most colleges and universities offer merit-based scholarships for academic excellence or other special achievements. Before you dismiss this option, note that scholarships do not only apply to straight-A students or students with demonstrated financial need. Many schools offer scholarships for athletics, leadership, community spirit, and special interests.
Examples of national scholarships you can apply for include the Gates Millennium Scholars Program, the Coca-Cola Scholars Foundation, the National Merit Scholarship Program, the Women Techmakers Scholars Program, etc. If you are in the Bay Area, a couple of local scholarships you can apply for include the Meritus Scholarship San Francisco and the Making Waves Foundation by College & Alumni Program (CAP). If you decide to apply for scholarships, check if your school offers scholarships, as well as any local and national scholarships you may qualify for.
Work-Study
If you are short on money, you can apply for work-study as part of your financial aid package. Work-study is funded at the federal or state level and helps students get part-time jobs alongside their class schedules. Income earned from work-study can assist you with covering your tuition bill, living expenses, or other college expenses.
While it is not meant to cover the entire cost of your tuition, it can get combined with other sources to help support your education. As with other types of financial aid programs, you will need to fill out FAFSA every year to see if you are eligible for the program.
Worst-case scenario, you can also take on several part-time jobs or internships if you need money. During my undergrad, I held multiple part-time jobs and internships to cover the costs of my college experience without needing to take out any loans.
Deciding How to Pay For College
How you end up financing the cost of your education will depend on your circumstances, as everyone's situation may differ. It will require some planning and research on your end to figure out what your best course of action is.
Before making a decision, ask yourself a few key questions. How much will it cost you per year to go to college? That should include tuition, rent, meals, transportation, textbooks, etc. Do you qualify for financial aid or scholarships? If you do, how much will you get? If you do not qualify, how long will your financing period be?
According to US News, the average cost of tuition and fees for 2021-2022 was $38,185 at private schools, $22,698 at public, out-of-state schools, and $10,338 at public, in-state schools. So, before you swipe your card, consider whether you will be able to pay off your balance. Otherwise, you will have a hefty bill waiting for you.
The Bottom Line
You have a wide variety of options available for financing your college education that does not require paying high-interest rates. For example, you have many student loan options with much lower interest rates than credit cards. You can also apply for tuition repayment plans, financial aid, scholarships, or grants.
While you can gain a lot from using credit to pay for tuition, many of these scenarios are specific to your circumstance. If you believe you will benefit from paying with a credit card, remember to do the math and make sure the benefits outweigh the costs.
We are not financial advisors. The content on this website and our YouTube videos are for educational purposes only and merely cite our own personal opinions. In order to make the best financial decision that suits your own needs, you must conduct your own research and seek the advice of a licensed financial advisor if necessary. Know that all investments involve some form of risk and there is no guarantee that you will be successful in making, saving, or investing money; nor is there any guarantee that you won't experience any loss when investing. Always remember to make smart decisions and do your own research!