New York City is notorious for being expensive. Coming from San Francisco, even I was caught off guard by how much everything cost when I visited the Big Apple for the first time. That is why we've compiled a list of 25 satisfying and delicious cheap eats in NYC. From pizza to fried chicken sandwiches to tacos and noodles, we hope you find something that suits your appetite and wallet in our list.
1. LOS TACOS No.1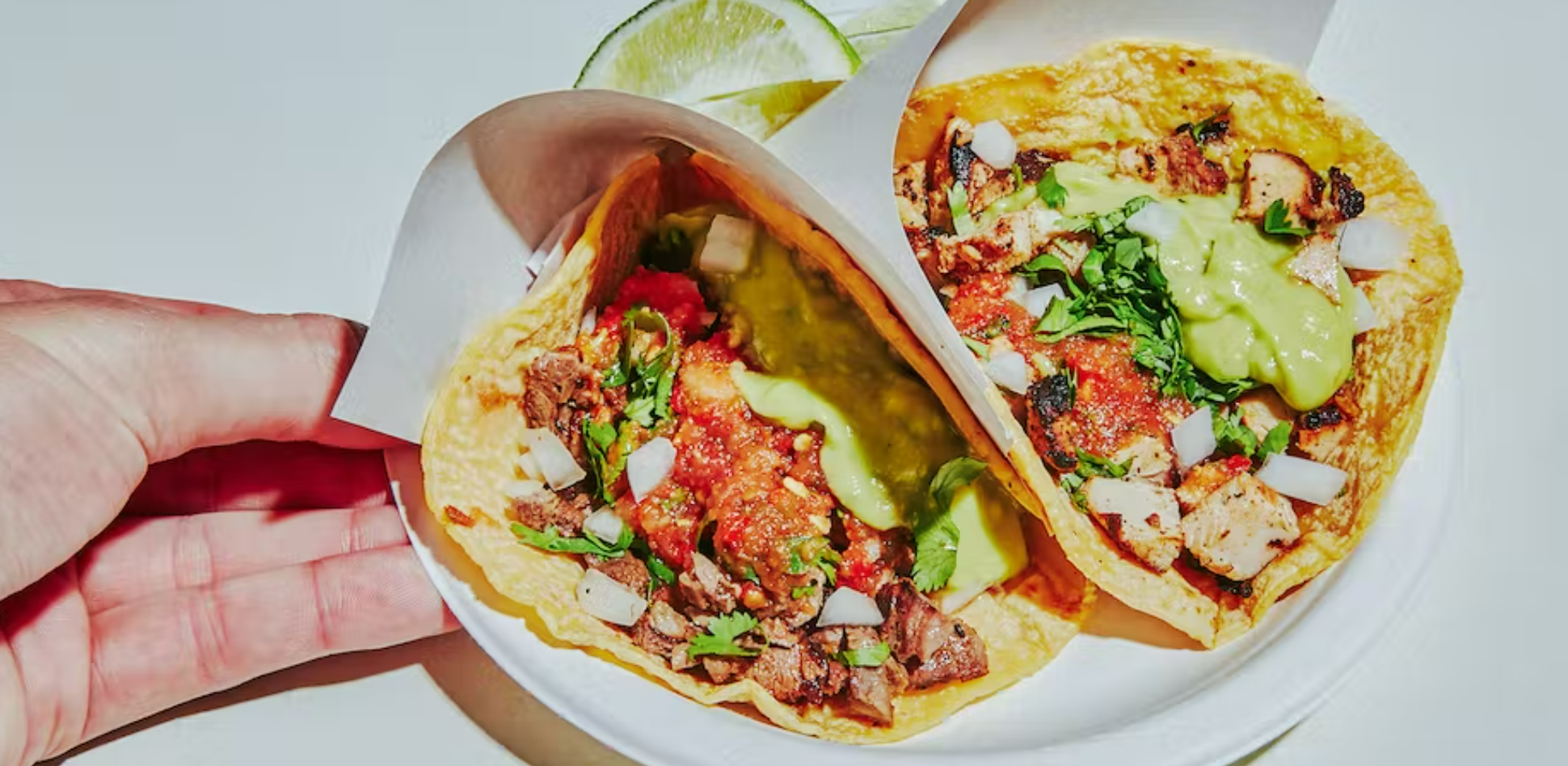 Locations: 75 9th Avenue, New York, NY 10011
340 Lafayette St, New York, NY 10012
229 West 43rd Street, New York, NY 10036
125 Park Ave., New York, NY 10017
136 Church St, New York, NY 10007
Perfect for: Quick bites, fast service, casual
Created by a group of close friends, LOS TACOS No.1 is an authentic Mexican taco spot with multiple locations across New York. While the lines are long, the ordering process is quick, and you'll get your hands on great food in no time.
Each taco costs anywhere from $4.65 to $4.95, while the quesadillas and mulas start at $5.95. Popular options include the adobada (al pastor), carne asada (steak), and pollo asado (chicken), though you can't go wrong with any of the other tacos. You can also try different sauces and toppings at no extra cost.
2. Rowdy Rooster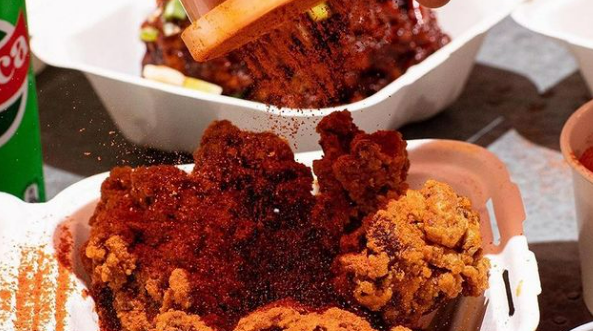 Location: 149 1st Ave, New York, NY 10003
Perfect for: Quick eats, takeout, casual
Rowdy Rooster is a fast-casual Indian fried chicken restaurant by Unapologetic Foods, a prominent restaurant group that runs several of New York City's finest restaurants. Despite its narrow storefront and limited seating, Rowdy Rooster draws long lines for their excellent chicken sandwiches, available in 2 sizes: the "Big Rowdy" fried chicken sandwich for $12 and the "Lil' Rowdy" fried chicken sandwich for $9.
Both sandwiches use dark meat cuts marinated in a secret yogurt-based mixture and coated in a spice blend available in five heat levels. The sandwiches get served on different buns, with the larger potato bun holding the hefty chicken well and the smaller pao providing a pleasantly surprising texture. Other items worth trying include the crispy fried chicken with mint chutney, eggplant pakora, vada pao, and mango lassi.
3. Kopitiam
Location: 151 E Broadway, New York, NY 10002
Perfect for: Quick bites, casual
Located in the Lower East Side of New York City, Kopitiam is a mom-and-pop café specializing in Nyanya cuisine, a hybrid of Chinese and Malay flavors. You can stop by anytime for breakfast, lunch, or dinner.
Popular dishes include the Nasi Lemak ($8.50 for coconut rice with fried anchovies and peanuts, cucumber, a hard-boiled egg, and sambal sauce), Kaya butter toast ($6 for toast with Pandan-coconut jam and butter), and Pan Mee ($15 for hand-pulled to order flat flour noodles, fried anchovies, wood ear mushroom, shiitake mushroom, spinach, minced pork, and anchovy broth). All the drinks come in a fun drink pouch, with Bek-kopi ($5.50 white coffee) and Kopi Tarik ($5.75 black coffee) being popular options.
Make sure to order at the counter, grab a seat, wait for the food to get brought out to you, and bus your own table when you're done. And note that the restaurant does not take reservations.
4. B&H Dairy
Location: 127 2nd Ave, New York, NY 10003
Perfect for: Breakfast, lunch, casual
Established in 1938 and located in the East Village, B&H Dairy is a kosher vegetarian restaurant specializing in traditional Eastern European comfort food. A New York City staple, the lunch counter is a no-frills spot that serves tasty, cheap eats for local New Yorkers and tourists alike.
Despite its small location, B&H Dairy has an extensive menu of breakfast and lunch items ranging from $5 to $17, including blintzes, pierogis, soups, and challah bread. In particular, they are known for their famous challah French toast ($9.50), tuna melt ($10), borscht ($6), B&H special omelet ($10), and cheese blintzes ($10 for two pieces).
5. Bigoi Venezia
Location: 1415 2nd Ave, New York, NY 10021
Perfect for: Quick eats, takeout
If you are craving homemade pasta, stop by Bigoi Venezia. Located in the Upper East Side of New York City, Bigoi Venezia is a unique pasta shop that pairs fresh bigoi, a classic thick pasta from the Veneto region of northern Italy, with various sauces.
Popular menu items include the Bolognese Classica (ground beef, pork, and tomatoes), Piselli e Prosciutto (peas, ham, and cheese), Ai Funghi (mushrooms, cream, and fresh parsley), and Aglio, Olio e Peperoncino (garlic, extra virgin oil, red pepper, and fresh parsley). All the pasta dishes are about $13, and you can expect to get a generous portion served.
6. Punjabi Grocery & Deli
Location: 114 E 1st St, New York, NY 10009
Perfect for: Takeout, quick eats
If you are in the mood for Indian food, Punjabi Grocery & Deli is the perfect spot to satisfy your cravings. A beloved local favorite, this place is a delectable hole-in-the-wall joint that serves authentic and affordable Punjabi food for $8 or less.
You can get a combo meal of rice or roti with vegetarian items like chana masala, rajma dal, saag paneer, aloo gobi, and more. If you're in the mood for a heartier meal, you can also grab appetizers like samosas and pakoras or desserts like kheer (rice pudding) or mango lassi. Note that the establishment is cash only, so come prepared.
7. Pao de Queijo
Location: 31-90 30th St, Astoria, NY 11106
Perfect for: Takeout, casual, quick eats
Established in 2007, Pao de Queijo is an authentic Brazilian spot in Astoria, New York. The restaurant offers an extensive menu with affordable options, including empanadas ($3.75-$4), Brazilian hamburgers ($9+), sandwiches ($8.50+), salads ($7+), acai bowls ($9+), and more. The burgers are especially noteworthy, featuring delicious flavors and sauces.
Additionally, Pao de Queijo serves breakfast items all day, smoothies, snacks, and desserts. Be sure to order at the pick-up window and find a seat to enjoy your meal or take it to go.
8. A&A Bake & Doubles & Roti Shop
Location: 1337 Fulton St, Brooklyn, NY 11216
Perfect for: Casual, quick eats
Opened in 2002, Brooklyn's A&A Bake & Doubles Roti is a Bed-Stuy Trinidadian staple famous for its bake and doubles, a popular dish consisting of deep-fried flatbreads stuffed with chickpeas and various toppings. In 2019, the shop was honored with the James Beard Foundation's America's Classics award, one of the highest accolades in the restaurant industry.
The doubles start at $2 while the bakes start at $4 and the roti at $2.50. However, don't let the prices fool you – the portions are big! Make sure to grab extra napkins if you plan on stopping by cause things can get messy.
9. Warkop NYC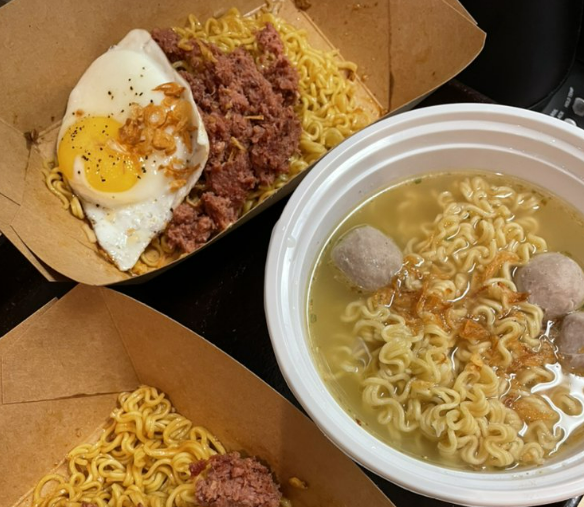 Location: 366 W 52nd St, New York, NY 10019
Perfect for: Takeout, late-night munchies
Warkop NYC is an Indonesian warung located in Manhattan that serves street-style food and coffee. Warungs are small, family-owned shops or restaurants that are common in Indonesia. They typically serve traditional Indonesian food, such as nasi goreng (fried rice), mi goreng (fried noodles), sate (skewered meat), and bakso (meatballs).
In particular, Warkop NYC's main dish is Indomie with different toppings, such as egg, cheese, vegetables, beef sausage, popcorn chicken, and more. The base price for the Indomie is $3, and you pay per topping. Other items include jasuke (cheese corn), bakwan jagung (corn fritter), tabu goreng (fried tofu), etc., starting at $6. Make sure to grab a cup of coffee as well!
10. White Bear
Location: 135-02 Roosevelt Ave Ste 5, Flushing, NY 11354
Perfect for: Takeout, fast-casual
White Bear is a hole-in-the-wall spot known for their mouthwatering dumplings. A Flushing staple, this Chinese food spot is takeout and cash only, perfect for a quick stop for some tasty eats.
Their spicy chili wontons are $10 for 12 and are one of the most popular items on their menu. As you order, you can see the chefs making the dumplings fresh, though you can also order frozen wontons for later. Another notable dish is their dan dan noodles with hot sauce ($10).
11. Shu Jiao Fu Zhou
Location: 295 Grand St, New York, NY 10002
Perfect for: Fast-casual
Shu Jiao Fu Zhou is a delectable Chinese restaurant that serves a variety of noodle and dumpling dishes (and recently went viral on TikTok). You can order a bowl of beef tripe with different types of noodles for $5.50 and under, dumplings for $4.50 or less, and various soups for $3 to $5. You can even order frozen dumplings to go for $12 for 50 pieces.
Everything on the menu is relatively affordable for the quality and portion, but they are known for their wheat noodles with peanut sauce ($3), pork and chive dumplings ($3), and wonton soups ($2). For roughly $5, you can have a filling dinner without breaking the bank. Note that this establishment is also cash only.
12. Pommes Frites
Location: 128 Macdougal St, New York, NY 10012
Perfect for: Casual, late-night eats
If you've ever wanted to eat fries as a meal, we have the perfect spot for you. Pommes Frites is a specialty store that serves authentic Belgian fries, also known as "pommes frites." These fries are premium quality, fried twice to achieve a crispy outside and soft inside. The best part – you can choose from 36 different sauces to pair with your fries.
Regular fries start at $8, while large fries start at $10.50. There's an extensive roster of special sauces, including sweet mango chutney, pomegranate teriyaki, Mexican ketchup, Thai chili ketchup, and more! You can also add garnishes like raw onions, mayo, and jalapeño to your fries for extra flavor.
13. Blue Sky Deli
Location: 2135 1st Ave 110th St, New York, NY 10029
Perfect for: Takeout, fast-casual
Chopped cheese is famous among local New Yorkers, and Blue Sky Deli's is one of the most well-known places to get them (and loved by Cardi B). Previously named Hajji, this deli invented chopped cheese, which is essentially the combination of a beef patty chopped up with cheese, lettuce, tomato, and onion, all on a hero roll. It's often compared to the Philly cheesesteak, but it has a unique taste that sets it apart. The secret to its deliciousness lies in the seasoning of the meat, which adds a salty, mouthwatering flavor.
The sandwiches start at $5 and go up to $9. Blue Sky Deli is a grab-and-go spot without any seating, but that doesn't stop people from lining up to get their hands on this tasty treat. The deli is also a grocery store and open 24/7, making it a great spot to satisfy your cravings at any time of the day.
14. Roll-N-Roaster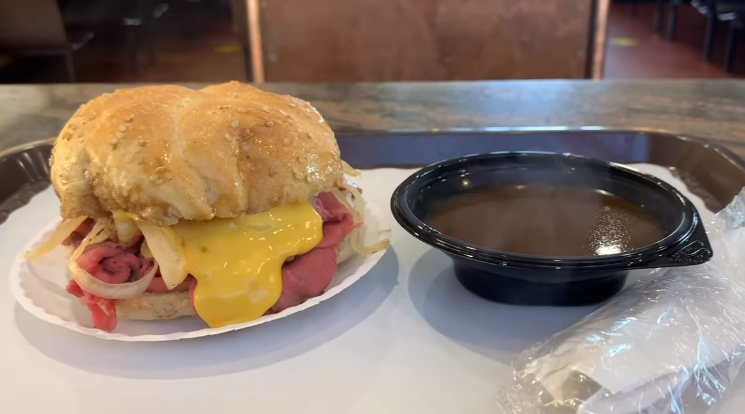 Location: 2901 Emmons Ave, Brooklyn, NY 11235
Perfect for: Fast-casual, late-night eats
Roll-N-Roaster is a Sheepshead Bay, Brooklyn establishment that has been serving up legendary roast beef sandwiches ($7.45 to $$7.95) since 1971. The meat is slow-roasted throughout the day and thinly sliced, then piled high between toasty kaiser rolls and topped with the classic "cheez" sauce.
While the roast beef sandwiches are the main draw, other menu favorites include the turkey sandwich ($6.95), cheezburger ($6.45), and golden fried corn fritters ($4.55). A sign by the register proudly announces that you can have cheez on anything you, please.
15. 7th Street Burger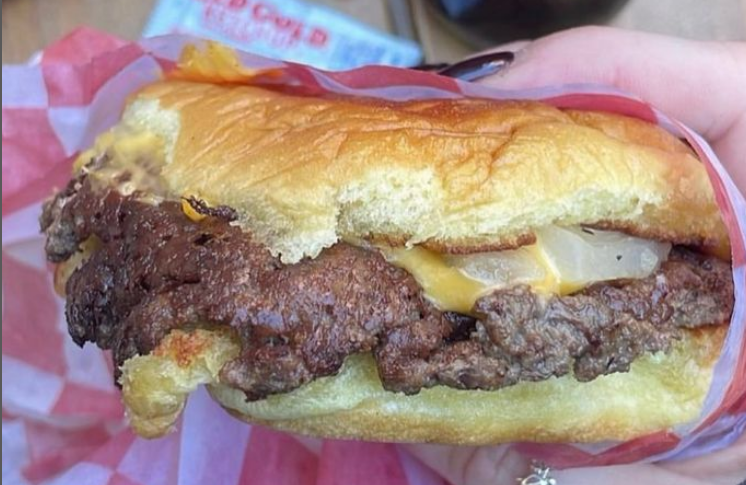 Locations: 91 E 7th Street, New York, NY 10009
110 Macdougal Street, New York, NY 10012
1603 2nd Ave, New York, NY 10028
364 Third Ave, New York, NY 10016
304 E 49th Street, New York, NY 10017
424 Amsterdam Ave, New York, NY 10024
485 7th Ave, New York, NY 10018
Perfect for: Fast-casual, quick bites
With multiple locations across the city, 7th Street Burger is a popular New York City eatery that offers classic American smash burgers served with grilled onions, American cheese, pickles, house sauce, and fries. They have a short menu, but they perfectly deliver their burgers.
You can choose between a cheeseburger ($6.50), double cheeseburger ($9.50), or impossible burger ($8) and complement your meal with fries ($4). It's the perfect guilty pleasure!
16. Joe's Steam Rice Roll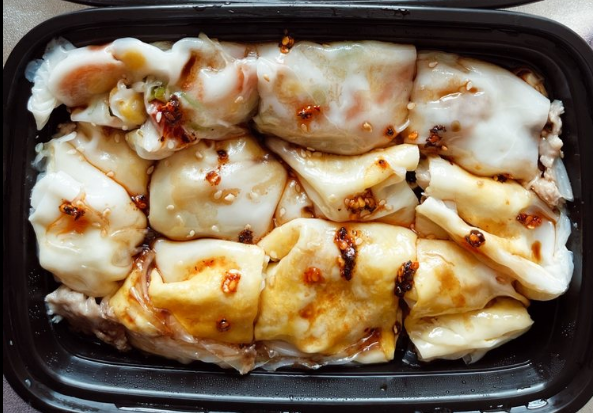 Locations: 261 Canal St, New York, NY 10013
422 Amsterdam Ave, New York, NY 10024
136-21 Roosevelt Ave, Flushing, NY 11354
Perfect for: Quick bites, takeout
Joe's Steam Rice Roll is a Hong Kong-style cafe focusing on Cantonese cuisine. With three locations (SoHo, Upper West Side, and Downtown Flushing), this eatery serves fresh rice rolls with customizable proteins and toppings, such as beef, pork, and shrimp, for $5 to $10.
Fan favorites include Joe's Signature ($10 for the combo with beef, pork, dried shrimp, eggs, and vegetables), shrimp party ($10), and shrimp steam rice roll ($7.95). All the rice rolls are made fresh and cooked in front of you using high-quality ingredients.
17. San Marzano Pasta Fresca
Location: 117 2nd Ave, New York, NY 10003
Perfect for: Casual
San Marzano is a great spot for affordable pasta in New York City. The rustic chic décor and wooden furniture help set the mood for a cozy dining experience, and the menu offers many options to suit different tastes.
The fresh pasta dishes are customizable, with many different pasta shapes and sauces to choose from, making it easy to create a dish that's just right for you. The prices are also very reasonable, with dishes starting at just $9 for a salad or $12 for a panini. The pasta dishes are especially noteworthy, with options starting at $14. You can even add additional protein to your pasta if you'd like.
18. Banh Mi Saigon
Location: 198 Grand St, New York, NY 10013
Perfect for: Quick eats, takeout, casual
Banh Mi Saigon is a popular Vietnamese restaurant well-known for its delicious banh mi sandwiches. Many customers rave about the quality and taste of the sandwiches, which are made with various meats, vegetables, and sauces. The bread is crispy on the outside and soft on the inside, making for a perfect texture to complement the fresh and flavorful fillings.
Some of the popular options include the signature BBQ pork banh mi ($8), the grilled chicken banh mi ($8.50), and the vegetarian banh mi ($8.50). If you are not in the mood for banh mis, Banh Mi Saigon also serves other Vietnamese dishes, such as pho and spring rolls, allowing customers to try other delicious and authentic flavors.
19. Bunna Cafe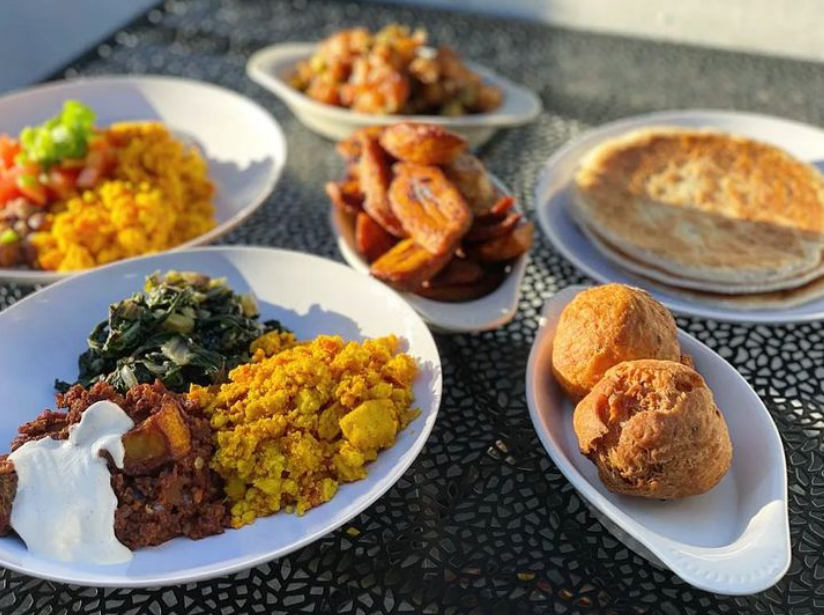 Location: 1084 Flushing Ave, Brooklyn, NY 11237
Perfect for: Vegan, casual
If you're a vegan food enthusiast and a fan of Ethiopian cuisine, then Bunna Cafe is a must-try. Located in Bushwick, Brooklyn, Bunna Cafe is a 100% plant-based Ethiopian restaurant that serves fresh food with vibrant flavors and colors.
For lunch, you can order breakfast combos ($18+) to sample every side dish on the menu, or entrees like the Duba Firfir ($12), which has a tangy, meaty taste with cashew sauce. The entrees are accompanied by Kita or Ethiopian semi-sweet breakfast bread. For dinner, you can choose your Beyaynetu size (starting at $17) or order items a la carte starting at $9 for half portions. All the dishes come with Injera or Ethiopian sourdough flatbread. Additionally, the coffee is a must-try, made with a warm blend of spices.
20. Xi'an Famous Foods
Locations: 96 8th Ave., New York, NY 10011
45 Bayard St., New York, NY 10013
328 E. 78th St., New York, NY 10075
8 Liberty Place, New York, NY 10038
41-10 Main St., Flushing, NY 11355
55-01 37th Ave., Woodside, NY 11377
26-19 Jackson Ave., Long Island City, NY 11101
133-33 39th Ave, Flushing, NY 11354
12-15 Jackson Ave., Long Island City, NY 11101
54 Willoughby St., Brooklyn, NY 11201
648 Manhattan Ave., Brooklyn, NY 11222
209 N. 8th St., Brooklyn, NY 11211
Perfect for: Casual, quick eats
Xi'an Famous Foods is a chain with multiple locations across New York City, including in Chelsea, Chinatown, the Upper East Side, the Financial District, Flushing, Woodside, Long Island City, Downtown Brooklyn, Greenpoint, and Williamsburg. It is a must-visit for those who enjoy Xi'an-style dishes with a kick.
Their hand-pulled noodles are the signature dish, with the spicy cumin lamb hand-ripped noodles ($14.25) being one of their most popular orders due to the thicker noodle texture, well-seasoned lamb, and cumin that adds a depth of flavor. The spicy and sour lamb dumplings ($10.50) are another standout dish, with their delicious flavor and the perfect combination of sour and spicy notes.
21. Mei Lai Wah Bakery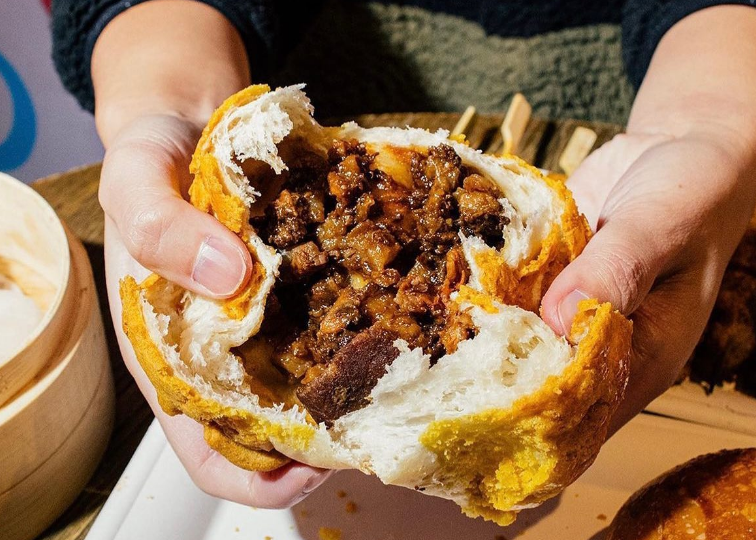 Location: 64 Bayard St, New York, NY 10013
Perfect for: Takeout, quick eats
Mei Lai Wah is a Chinese bakery and coffee shop in New York City that offers an assortment of dim sum, noodle rolls, congee, and more for affordable prices. The iconic bakery is known for its baked roast pork bun ($1.75) and pineapple bun with roast pork ($2.30), which has a sweet, buttery crust that complements the salty filling perfectly.
The service is quick, and customers can order either inside the store or at a kiosk outside, though there may be a slight price increase when ordering at the kiosk. Note that there are no seats or tables in the bakery.
22. Paulie Gee's Slice Shop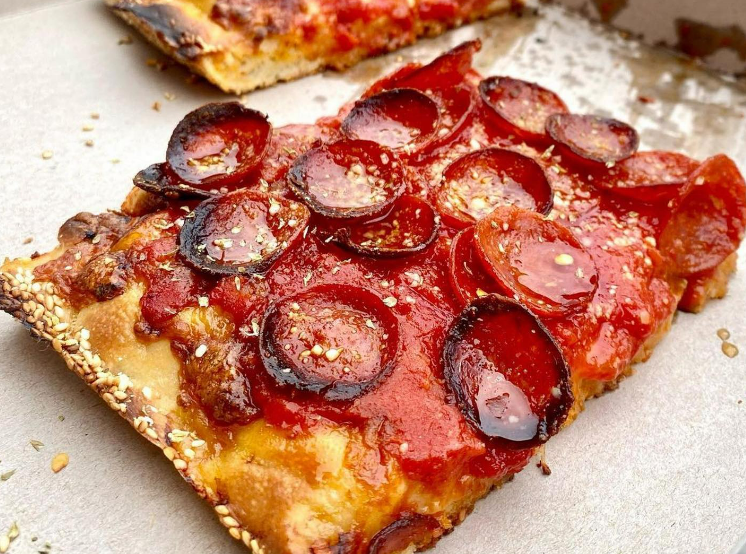 Location: 110 Franklin St, Brooklyn, NY 11222
Perfect for: Fast-casual, quick eats, vegan
Located in Greenpoint, Brooklyn, Paulie Gee's is a cult favorite known for its creatively topped pizzas. Their Sicilian-style square, the Freddy Prinze, comes topped with fresh mozzarella, tomato sauce, pecorino Romano, and a sesame seed bottom ($5), while the classic Hellboy is a Sicilian with fresh mozzarella, tomato sauce, Pecorino Romano, Ezzo pepperoni, Mike's Hot Honey and a sesame seed bottom ($5.25).
The classic cheese ($4) and pepperoni are also delicious options, and if you're a vegan, Paulie Gee's has a few tasty selections starting at $5.25 a slice. While not your typical $1 slice of pizza, the extra-crisp crust and mouthwatering toppings make it worth the slightly higher price, and the atmosphere feels like a classic New York dollar-slice shop.
23. Cheeky Sandwiches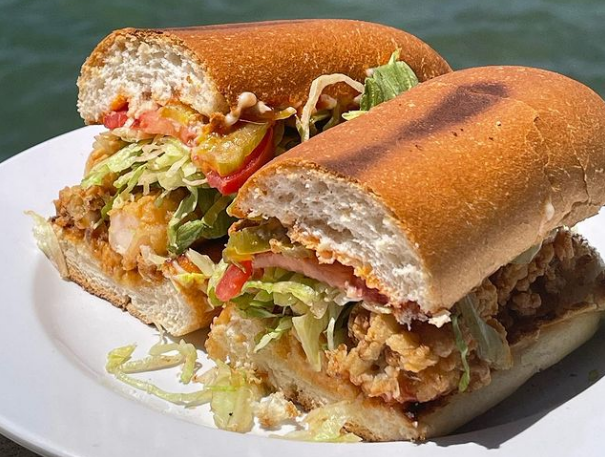 Location: 119 Essex St, New York, NY 10002
Perfect for: Quick eats, takeout
Cheeky Sandwiches is an authentic New Orleans-inspired sandwich shop located on the Lower East Side of New York City. The restaurant has a homey, southern-style atmosphere and is a no-frills shop known for its shrimp and oyster po'boys ($13.50).
The fried chicken sandwich is another popular option, which has that New Orleans flair with its combination of well-seasoned, crunchy fried chicken, flavorful gravy, and fluffy, airy biscuit. Other top-tier sandwiches include the braised short rib sandwich served on challah bread, the sea sandwich (half shrimp and half oyster po-boy), the pork sandwich, and the vegetarian grass sandwich. For dessert, try the beignets, served hot and dusted with confectioners' sugar.
24. Kossar's
Locations: 367 Grand St, New York, NY 10002
536 W 30th St, New York, NY 10001
1409 York Ave, New York, NY, 10001
Perfect for: Quick eats, casual
Established in 1936, Kossar's specializes in making some of the best bagels and bialys in New York City. Kossar's has three locations in the Lower East Side, Hudson Yards, and Upper East Side.
Made from brewer's yeast, flour, kosher salt, and New York tap water, their bagels are chewy, fresh, and delicious. The bialys are also a standout item on the menu, featuring a variety of toppings such as roasted onion, sundried tomato, sesame, or olives.
25. The Original John's Deli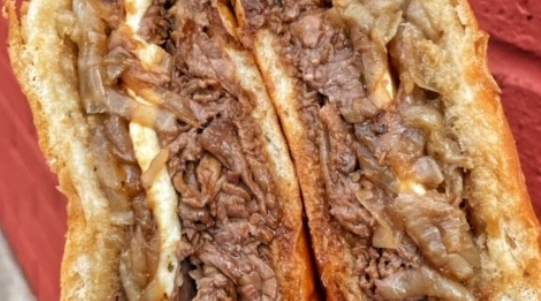 Location: 2033 Stillwell Ave, Brooklyn, NY 11223
Perfect for: Casual, quick eats
The Original John's Deli is a quintessential Brooklyn staple that has been serving up amazing Italian subs since the late 1960s. They have rightfully earned the nickname "The Hero King" with their extensive menu of hot and cold sandwiches, each with unique names like the Henry Hill, Adrian Balboa, Tony Manero, and Al Capone. In addition to their famous subs, they also make delicious rice balls, featuring flavors like meat and pea or pistachio nut.
Their most famous sandwich is the roast beef with mutz. It features a generous helping of thinly sliced roast beef, melted cheese, sweet caramelized onions, and plenty of dark gravy poured over the top. The result is an overstuffed masterpiece that is sure to leave you satisfied. And if you're worried about the mess, John's Deli has plenty of rolls of paper towels strategically placed throughout the dining area.
The Bottom Line
New York City is a food lover's paradise with a plethora of options to suit any budget. From street food vendors to mom-and-pop shops, the city is home to delicious and affordable food across downtown Brooklyn to the Upper West Side to the Lower East Side to Washington Heights.
Whether you're looking for a classic New York slice of pizza or a heaping plate of spicy noodles, there is something for everyone. So the next time you're on a budget and looking for a satisfying meal, consider exploring the many cheap eats that NYC has to offer. You never know what hidden gem you might discover!
We are not financial advisors. The content on this website and our YouTube videos are for educational purposes only and merely cite our own personal opinions. In order to make the best financial decision that suits your own needs, you must conduct your own research and seek the advice of a licensed financial advisor if necessary. Know that all investments involve some form of risk and there is no guarantee that you will be successful in making, saving, or investing money; nor is there any guarantee that you won't experience any loss when investing. Always remember to make smart decisions and do your own research!